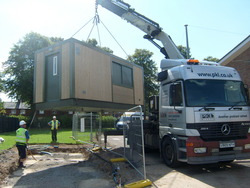 PKL KitchenPods are supplied complete with equipment and are quick and easy to install
(PRWeb UK) September 7, 2010
A new video from PKL, highlighting the ease of installation of its innovative KitchenPod prefabricated kitchens for schools, has been published on the company's new YouTube channel (http://www.youtube.com/user/PKLGroup). The new video, featuring a real school project, demonstrates the ease and speed with which KitchenPods are delivered, installed and connected to the school's utilities.
KitchenPods are supplied complete with equipment in an easy-to-install pod, tailored to the needs of each project. They are proving particularly popular with primary schools that need to upgrade their catering facilities but do not have space within their existing buildings, or the capital budgets for traditional new construction.
KitchenPods are available in a wide range of exterior designs and finishes (including wood cladding and brick effect) with a comprehensive selection of equipment layouts to meet regeneration, cold and hot preparation requirements. The KitchenPod can be installed as a standalone building or connected to an existing building.
More information regarding KitchenPods can be found at http://www.pkl.co.uk/foodservices/kitchen-pods.asp).
###