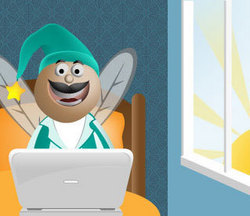 We are sure our members will absolutely love this new addition to the site.
Wilmington, DE (PRWEB) September 8, 2010
Industry leading penny auction site BEEZID.com has set a new precedent by unveiling another highly enticing feature on the site where members can now get their bids back and reuse them.
The new feature is called the Early Bird Special and is available to users on Monday through Friday between 5:00am – 8:00am EDT. Users who win an auction that hits its action time (the time when the reset counter is active) within this time window is eligible for the Early Bird Special, even if the auction ends well after 8:00am. Winners of these auctions will be given back all of the bids they used to win their item.
There is no limit to how many auctions a user may win during the Early Bird Special. The introduction of this new feature is another clear display of how BEEZID.com stands apart from its competitors.
"We are sure our members will absolutely love this new addition to the site." says Max Bohbot, President of BEEZID.com. "We are always looking for fresh new ways to make our great deals even better and provide everyone with the opportunity to take advantage of all Beezid has to offer."
BEEZID.com features only brand new, factory sealed merchandise such as a variety of high end electronics including the new Apple iPad and 3D HDTV's, home appliances, gaming consoles, videogames, movies and much more. Shoppers at BEEZID.com save up to 99% off the retail price in a fun, safe and secure online environment. Registration is quick, easy and free to try. All new users receive ten free bids with no obligation.
About BEEZID.com – BEEZID.com is a top rated penny auction website which offers a thrilling spin on online auction shopping. Users take advantage of huge discounts on brand new, brand name products by forming bidding strategies and by using bonuses and incentives offered by Beezid. Launched in 2009, BEEZID.com is one of the biggest, most frequently visited and most-trusted sites of its kind world-wide.
###