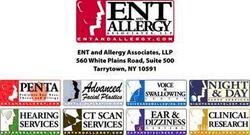 Our new state-of-the-art medical office facility is our way of letting the people of Old Bridge know that we at ENTA are fully committed to providing them the very best care possible
Tarrytown, NY (Vocus) September 7, 2010
ENT and Allergy Associates, LLP announced today that it is significantly expanding its presence in Old Bridge, NJ by opening a six day-a-week, full service, state of the art clinical facility as of November 1, 2010. This new medical office-meeting the growing needs of the patient population of Middlesex County-employs a comprehensive multi-disciplinary subspecialty approach featuring specialists in Sinus, Throat and Allergy training, and will be fully staffed to offer complete Adult and Pediatric ear, nose and throat care, as well as laryngology, audiology, hearing aid services and allergy medical services.
Seeing patients in ENTA's Old Bridge location will be: Dr. Farhad Chowdhury-board certified Otolaryngologist and Fellowship trained Laryngologist; Dr. Zarina Sayeed-board certified Otolaryngologist; Dr. Vishvesh Mehta-board certified Otolaryngologist; and Dr. Mathew Varghese-board certified in Allergy and Immunology.
ENTA originally entered Old Bridge less than a year ago, taking over an existing one-day-a-week practice. However, recognizing the needs of the community, it has now chosen to invest in a 3,000 sq ft medical office, located on the first floor of the Renaissance Plaza, 3663 Route 9 North, Suite 102, Old Bridge, NJ. It offers four exam rooms equipped with state-of-the-art technology.
"Our new state-of-the-art medical office facility is our way of letting the people of Old Bridge know that we at ENTA are fully committed to providing them the very best care possible," said Wayne Eisman, M.D., president of ENTA, "and I am completely confident we will."
ENT and Allergy Associates, LLP is the largest and most comprehensive ear, nose, throat, allergy and audiology practice in the nation, with 34 offices and over 110 physicians. It has a clinical alliance with the Mount Sinai Medical Center for the treatment of diseases of the head and neck, and a corporate partnership with the American Cancer Society for the navigation of patients with smoking disorders and cancers.
To learn more about the benefits of ENT and Allergy Associates ®, please visit http://www.entandallergy.com
###