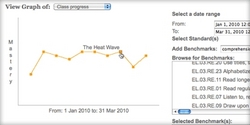 Portland, OR (PRWEB) September 7, 2010
Benchmark Grading has recently added California, New York, and Common Core to the preloaded standards available for teachers to attach to their online grade books. Teachers can sign up for a free account at Benchmark Grading and begin using the powerful standards-based grade book to track and assess student progress on K-12 standards for Oregon, Washington, California, New York, and the Common Core standards.
By adding California and New York to their growing roster of supported states, Benchmark Grading provides thousands of teachers keyword-searchable access to educational benchmarks that can be attached to assignments, quizzes, and tests with one click. California and New York parents will also be able to view their children's progress toward mastery of state standards.
Benchmark Grading has also added two new features to its grade book: teachers can now create custom grading scales in addition to choosing from the existing rubric, standard, pass-fail, and other grading scales. They can also now see which students are meeting or not meeting each standard with one click.
By creating a free account with Benchmark Grading, teachers can also create dynamic graphs of student mastery by standard and view at a glance which standards have yet to be taught. In addition, teachers can invite parents to use the secure parent portal, to facilitate communication with parents and share printable online progress reports.
View a four minute demo video of Benchmark Grading's features.
About Benchmark Learning Solutions
Built from a teacher's perspective, Benchmark Grading provides the most complete and easy-to-use standards-based grade book solution available. Benchmark Learning Solutions was founded in 2006 and is located in Portland, OR. For more information contact Sarah McPartland: sarah(at)benchmarkgrading(dot)com or visit us on the web at http://www.benchmarkgrading.com.
###