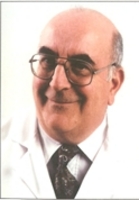 a short, compact, student-friendly, "this is what you need to know" presentation of Physical Diagnosis was what first- and second-year medical students needed in their introduction to real patients
Milltown, NJ (PRWEB) September 9, 2010
Medical-Exam-Essentials.com, an informational website providing clear, concise information for medical school students and practicing physicians, announces the release of the eBook A Primer in Adult Physical Diagnosis. "Conversations with both physicians and medical students led me to the conclusion that a short, compact, student-friendly this is what you need to know presentation of Physical Diagnosis was what first- and second-year medical students needed in their introduction to real patients," says the author, John A. Crocco, M.D., F.A.C.P., Clinical Professor of Medicine at Robert Wood Johnson Medical School, Piscataway, NJ and Chairman Emeritus, Department of Medicine at Jersey Shore University Medical Center, Neptune, NJ.
In addition to a detailed guide to taking a complete medical history, each section in A Primer in Adult Physical Diagnosis is short and very specific to the bodily system under observation. The Review of Systems (ROS) is divided into the general Review of Systems, a cursory ROS obtained in all patients, and the specific Review of Symptoms, when the physician asks very pointed questions related to each system.
A Primer in Adult Physical Diagnosis provides medical students with:

a script of questions to ask when taking a medical history
general health-related questions to ask all patients
detailed additional questions to ask patients about their specific areas of concern
step-by-step guides to examining each part of the body
clear, specific instructions for determining problems or abnormalities
"If you look at the problem of learning Physical Diagnosis through the eyes of a second-year medical student, you realize the overwhelming volume of material these students must master," states Crocco. "The need for a shorter, more compact, student-friendly book is essential. This is where A Primer in Adult Physical Diagnosis enters the picture. It doesn't replace any of the Physical Diagnosis textbooks but complements them and allows the student to learn how to examine a patient.
A Primer in Adult Physical Diagnosis is now available online for download in PDF format for the price of $24.75. For more information on Medical-Exam-Essentials' eBooks and downloads, visit: Medical-Exam-Essentials.com
###