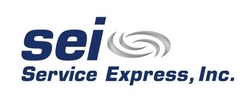 SEI, a better partner for data center maintenance, customized solutions and exceptional service
Grand Rapids, MI (PRWEB) September 8, 2010
Service Express, Inc. (SEI) provides exceptional Data Center hardware maintenance. They also reduce their customers' costs by creating customized maintenance plans that can save them 30% or more over their current agreement. By supporting end of life equipment, such as the StorageTek (STK) PowderHorn tape library, SEI allows businesses to keep systems and servers longer without having to buy new when their initial warranty expires. Locally stocked parts and local engineers also keep downtime to a minimum and productivity up.
SEI, which has been named to the Inc. 5000 List Of The Fastest Growing Private Companies In America the last four years, is now bringing their exceptional brand of Data Center hardware maintenance to Chattanooga, Tennessee.
"Bringing our level of service to a new market is always exciting," states SEI President Ron Alvesteffer. "People are just not use to having a service company that is so totally focused on meeting their needs. We have live dispatch 24 hours a day; customers never have to deal with annoying prompts when placing a service call and our engineers return the call within 30 minutes after it comes in. This commitment to quality service is exactly why we continue to maintain our 98% customer retention rate."
Service Express has headquarters in Grand Rapids, Michigan, as well as offices in Detroit and Flint, Michigan; Chicago and Lombard, Illinois, Cincinnati, Cleveland, Columbus, Ohio; Indianapolis and South Bend, Indiana; Pittsburgh, Pennsylvania; Nashville and Chattanooga, Tennessee, Louisville, Kentucky, Milwaukee and Appleton, Wisconsin. SEI is also planning expansion into Springfield, Illinois and St. Louis, Missouri.
The company also supports mainframe, midrange and Intel based servers for IBM, DEC, HP, SUN and Dell, as well as EMC and STK storage. Additional information can be found at seiservice.com.
Contact: Jeanne Koehler
Tel: 616-698-2221
Email: jkoehler(at)seiservice(dot)com
# # #