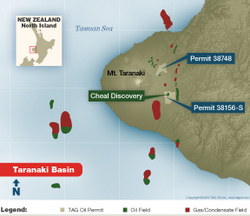 Vancouver BC (PRWEB) September 8, 2010
New Zealand explorer and producer TAG Oil Ltd. (TSX-V, trading symbol: "TAO") announced today that the Company is beginning the next phase of its Taranaki program, including exploratory and horizontal development drilling, and various workover operations including multi-stage fracture treatments. This program is within TAG's 100% controlled, 15,400-acre (24 Section) Broadside exploration and Cheal oil discovery acreage in the Taranaki Basin.
The prime objective of this program is to build TAG's oil and gas revenue in Taranaki, where the Company has already established high netback oil production from its 100%-owned and operated Cheal Production Facility. The impact of this operation is anticipated to materially increase reserves, as well as the 420 barrels of oil and 400 mcf gas currently produced per day.
Operations are moving forward on the basis of successful pilot testing of downhole recovery technologies and recently completed fracturing programs. The results of this three-well workover program have shown to accelerate and increase reserve recovery, and to lower overall operating costs.
In the Broadside Exploration Permit PEP 38748, TAG is scheduled to spud the Sidewinder-1 exploration well on September 15, 2010. The well is scheduled to reach a total measured depth of 1457m in approximately 10 drilling days to test this Miocene-aged prospect.
Sidewinder is one of several exploration prospects identified on permit-wide 3D seismic. TAG will have the option to immediately drill one or more additional follow-on exploration prospects from the same surface location, dependent on results. The Sidewinder-1 exploration well will target the Mt. Messenger Formation, the same producing formation as the offsetting Ngatoro and Kaimiro oil and gas fields.
Upon completion of this drilling operation, the rig will move to the Cheal production permit PMP 38156-S to commence drilling the Cheal-BH-1 horizontal well.
This development well, with a total measured depth of 2325m, including a 600m horizontal section, will be drilled into the proven producing area of the Cheal A block and target the widespread turbidite fan deposits in the Mt. Messenger Formation mapped over the Cheal permit area.
The Cheal-BH-1 well will be completed with a multi-stage fracture treatment along the horizontal section, using completion technology proven in North America and globally, but not yet deployed in New Zealand.
Simultaneously, a service rig will begin further optimization work on two wells within the Cheal Mining Permit. Cheal B-3 will receive a fracture stimulation treatment followed by installation of additional recovery technology.
TAG Oil Ltd.
TAG Oil Ltd. is a Canadian-based company with international operations in New Zealand. The Company holds a drill-ready prospect inventory that covers more than 3,500 sections of land in the Taranaki and East Coast basins, including a 100% interest in the producing Cheal oil and gas discoveries now under appraisal and development.
In the East Coast Basin, TAG is planning a drilling campaign to further investigate the major unconventional resource potential that has been demonstrated in the Waipawa and Whangai fractured shale source-rock formations that are widespread across the Company's acreage. The geological characteristics of these formations compare favorably to oil-rich shale formations such as the Bakken Shale in the Williston Basin and Liassic Shale in the Paris Basin.
Contact:
Dan Brown or Garth Johnson
TAG Oil Ltd. 1-604-682-6496
Website: http://www.tagoil.com/
Cautionary Note Regarding Forward-Looking Statements
Statements contained in this news release that are not historical facts are forward-looking statements that involve various risks and uncertainty affecting the business of TAG Oil. Actual results may vary materially from the information provided in this release. As a result, there is no representation by TAG Oil that actual results realized in the future would be the same in whole or in part as those presented herein. Actual results may differ materially from the results predicted, and reported results should not be considered as an indication of future performance. Factors that could cause actual results to differ from those contained in the forward-looking statements are set forth in, but are not limited to, filings that the Company and its independent evaluator have made, including the Company's most recent reports in Canada under National Instrument 51-102.
Neither TSX Venture Exchange nor its Regulation Services Provider (as that term is defined in the policies of the TSX Venture Exchange) accepts responsibility for the adequacy or accuracy of this release.
###