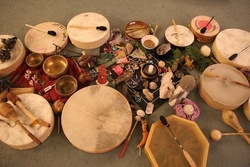 Our goal is to bring peace and mutual respect for all cultures without fear, judgment and prejudice so that we can overcome the pain of the past and embrace the full promise and potential of the future
New York, NY (Vocus) September 8, 2010
With all the debate about the proposed mosque at Ground Zero, Shaman Lawyer, Vincent Presti, has decided to participate in the debate from a different voice, that is, the muted call of Native American spiritualism.
"Since so many emotions surround the issue of the proposed Islamic Center at Ground Zero, I believe that both New Yorkers and other interested parties should remember the indigenous peoples who possessed this land at one point in time and try to understand their sacred practices," according to Shaman Lawyer Vincent.
To bring Hec Ace, a gifted medicine man, from the West to the East, Shaman Lawyer Vincent hopes to establish some dialogue with all faith cultures and allow the original, historical sacredness of the land to have some influence in healing and in creating a positive future for Ground Zero, especially the victims and their families.
"Our goal is to bring peace and mutual respect for all cultures without fear, judgment and prejudice so that we can overcome the pain of the past and embrace the full promise and potential of the future," opines Shaman Lawyer Vincent.
Hec Ace will be conducting traditional, Native American blessings for two weeks, in New York City.
About the Shaman Lawyer Vincent Presti
Founded in 2008, Shaman Lawyer ® is an I Wanna Be On® Packaged Personality.
For additional information, you can visit http://www.shamanlawyer.com, send an e-mail to info(at)shamanlawyer(dot)com, or contact the Shaman Lawyer directly at 212 924 3901.
###