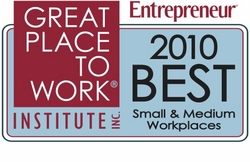 Being named one of the 'best' is awesome recognition and we are really excited about this honor
San Francisco, CA (Vocus) September 8, 2010
Atlassian, developer of product management and collaboration tools, today announced that the company has been named as one of the 50 Best Small and Medium Companies to Work For in 2010 by Great Place to Work® Institute, whose employee survey, culture assessment tools, research and advisory services have made them leaders in helping organizations build high-trust workplaces.
"Being named one of the 'best' is awesome recognition and we are really excited about this honor," said Mike Cannon-Brookes, co-founder and CEO at Atlassian. "We've worked hard to build a great workplace culture, and it has paid off in helping us recruit and develop great employees. To be recognized for this commitment is very special."
Over 300 companies were nominated for the honor. Atlassian was named in the category of small-sized companies (50-250 employees) and medium-sized companies (251-999 employees). In order to choose the honorees, Great Place to Work Institute surveys employees to determine specifics about their experiences in the workplace, and assesses company culture by asking management about practices and programs which are offered to employees. The Best Companies to Work For are then identified and used as an outstanding example and benchmark to illustrate what great workplaces do differently.
Atlassian is always hiring in all three of its offices in Sydney, San Francisco, and Amsterdam. Job seekers can learn more at http://www.atlassian.com/jobs.
About Atlassian
Atlassian is an Australian software company specializing in software development and collaboration tools. More than 20,000 organizations of all sizes use Atlassian's issue tracking, collaboration and software development tools to work smarter and deliver quality results on time. Learn more, or apply for a job, at http://www.atlassian.com
About Great Places to Work Institute
Great Place to Work Institute is a research and management consultant group that makes an annual survey (in partnership with the Society for Human Resource Management) of business ranging from the smallest mom-and-pop operations to mega-corporations. It questions employees and performs "culture audiets" that reveal on-the-job perks, benefits and training. The results are its annual lists of Best Companies to Work for in America.
###