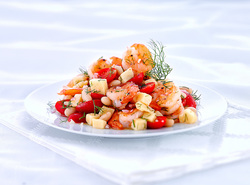 Wisconsin Cheese is a product that I know is consistent, I know is high quality ... most of the great cheeses in America are being made in Wisconsin. I use Wisconsin Cheese in all of my restaurants.
Madison, WI (PRWEB) September 9, 2010
The Wisconsin Milk Marketing Board has chosen a perfect pairing for Wisconsin Cheese – celebrity chef, author and restaurateur Michael Symon to promote our country's finest cheese.
On September 7, the dairy farmer promotion organization, WMMB, launched an online series of engaging, entertaining webisodes on http://www.EatWisconsinCheese.com, which feature Iron Chef Symon cooking 12 original recipes, all starring Wisconsin Cheese. The series, "Favorite Foods with Chef Michael Symon," will roll out new videos weekly.
"Michael personifies the Wisconsin Cheese ideal of outdoing ordinary," said James Robson, Wisconsin Milk Marketing Board Chief Executive Officer. "He's had phenomenal success at his restaurants and on televised cooking shows, and we're very happy to be able to share some of his favorite meals with cooks across the country."
The recipes center on some of Symon's signature restaurant dishes and childhood favorites, always giving Wisconsin Cheese the starring role. The series kicks off with Pan-Roasted Shrimp with Wisconsin Aged Parmesan. This flavorful dish combines shrimp with a warm salad of Parmesan, white beans and tomatoes.
Visitors to the site can watch as Symon prepares each recipe, providing interesting insight into the ingredients and preparation methods. Here is just a sampling of some of the easy-to-make recipes, which will be available for download on the website:
Ï Gourmet Grilled Ham and Cheese with Wisconsin Swiss
Ï Grilled Rib-eye with Wisconsin Havarti Fondue
Ï Wisconsin Parmesan Gnocchi with Brown Butter and Sage
"Wisconsin Cheese is a product that I know is consistent, I know is high quality," Symon said. "It's in the Midwest, in my own backyard. We have beautiful cheeses being produced in America, and most of the great cheeses in America are being made in Wisconsin. I use Wisconsin Cheese in all of my restaurants."
In addition to the weekly webisodes, visitors to the website will have a chance to win prizes, including the grand prize of a Viking range and refrigerator.
Symon graduated from the Culinary Institute of America in 1990. Today, he's the executive chef and owner of both Lola Bistro and Lolita in Cleveland, as well as a chef on "Iron Chef America" on The Food Network. He is the author, with Michael Ruhlman, of Michael Symon's Live to Cook (Clarkson Potter, 2009, New York).
Pan-Roasted Shrimp with Wisconsin Aged Parmesan
By Chef Michael Symon
One of the first signature dishes at Chef Michael Symon's restaurant, Lola, this meal can be enjoyed as an entrée or as a salad. Featuring buttery Wisconsin Aged Parmesan that crackles on the tongue, shrimp, white beans, and grape tomatoes, this original dish boasts rich and creamy flavors with a full-bodied taste.
No. of Servings: 4–6
Ingredients
2 shallots, minced (about 2 tablespoons)
1 clove garlic, minced
Kosher salt and ground black pepper
Juice of 2 lemons
1/2 cup (4 ounces) extra virgin olive oil plus 1 tablespoon for shrimp
1/2 cup grape tomatoes, halved
1 cup freshly cooked or canned white beans, such as cannellini
1 cup (about 4 ounces) Wisconsin Parmesan cheese, cut in small dice
1/4 cup fresh dill, chopped
1 pound large shrimp, peeled and deveined
Cooking directions
Place shallots and garlic in mixing bowl. Add pinch of salt; mix. Add lemon juice, stir and slowly whisk in olive oil. Add tomatoes, beans, Parmesan cheese and dill. Mix well and set aside.
Pan-roast shrimp: Heat remaining 1 tablespoon olive oil in sauté pan. Add shrimp and cook, turning until pink and cooked through, about 3 minutes. Do not overcook. Season to taste with salt and coarsely ground black pepper.
Add warm shrimp to prepared mixture and toss. Serve immediately.
The Wisconsin Milk Marketing Board, a nonprofit organization of Wisconsin dairy producers, promotes the consumption of milk, cheese, and other dairy products made in America's Dairyland.
###