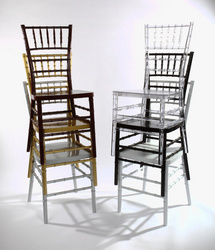 "We have been selling the traditional Wood Chiavari Chairs for the past few years, but our customers have been asking for a Chiavari Chair with greater durability, that required less maintenance and touchups," said Heathcote, Co-President of D & K Imports
Toronto, Canada (PRWEB) September 9, 2010
D & K Imports is pleased to announce the expansion of its product line with the introduction of their new Resin Chiavari Chairs. Initially available in Mahogany, Black, White, Silver, or Gold, these chairs feature enhanced structural supports to increase their durability. In addition, a Crystal Chiavari Chair will also be available.
"We have been selling the traditional Wood Chiavari Chairs for the past few years, but our customers have been asking for a Chiavari Chair with greater durability, that required less maintenance and touch-ups," said Dennis Heathcote, Co-President of D & K Imports Inc. "Our new Resin Chiavari Chair meets these needs. Our customers don't have to worry about these chairs breaking or the wood showing through when the chairs get scratched or bumped."
Fuzion Banquets in Mississauga, Canada recently purchased some D & K Imports Gold Resin Chiavari Chairs with deluxe Ivory cushions. "We had been receiving numerous requests for Chiavari Chairs for quite some time and now that we have them available, we are seeing an increase in our bookings," said Minesh Dattani, Director of Sales and Operations, Fuzion Banquets. "The new Resin Chiavari Chairs allow us to meet our customers needs without adding the additional time and expense needed to maintain a large inventory of wood Chiavari Chairs."
D & K Imports Resin Chiavari Chairs feature an all steel frame, covered with a thick resin outer layer that is the base colour of the chair. The chair is then coated with a high gloss acrylic automotive paint that gives our Resin Chiavari chairs that great "wow" appeal for weddings and other special events. While the chairs are beautiful, they are also extremely strong. D & K Imports Resin Chiavari chairs have also been subjected to the BIFMA (Business & Institutional Furniture Manufacturers Association) drop test and will support a 300lb drop from 6 inches above the seat.
D & K Imports Crystal Chiavari Chair is made of a very strong polycarbonate and allows our customers to present a 'ghost-like' Chiavari Chair at a fraction of the price of the original Philippe Starck Ghost chairs. Stock is available in quantity in White, Silver, or Crystal and in limited quantities for Mahogany or Gold. Chiavari chair cushions will be initially be available in White, Ivory or Black, while a vinyl Chiavari chair cushion will be available in White or Black.
About Fuzion Group - At Fuzion Banquets, our motto is, "We don't share"... our staff, walls, parking or amenities. We are a custom one room banquet hall that offers over 22,000 combinations to our clients. Our Catering division offers over 6 cuisines and 150 dishes, we even have our own fleet of Tiffany Limousines. Whether we are hosting your wedding reception, Christmas party, birthday party, communion, baby shower or corporate meeting, Fuzion Group of services can deliver your unique event to you without compromises. For more information feel free to check us out on the web at http://www.fuziongroup.ca or email us at sales(at)fuziongroup(dot)ca.
About D & K Imports Inc – D & K Imports Inc is a leading factory direct wholesaler of dishes, platters, bowls, flatware, tables, chairs, cupcake stands and a wide range of other quality products. Our Customers include major Convention Centres, Banquet Halls, Restaurants, Caterers, Golf Clubs, Party & Event Rental and many other Food Service based companies. D & K Imports Inc. is a past recipient of the Canadian Rental Association – Ontario division 'Supplier of the Year' award. For more information feel free to check us out on the web at http://www.dandkimports.com or email us at info(at)dandkimports(dot)com.
###