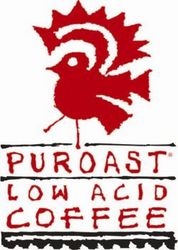 Woodland, CA (Vocus) September 8, 2010
The latest trend in coffee products – Low Acid Coffee – will debut in Walmart stores beginning this October. Puroast® Low Acid Coffee is a highly successful brand that fits a growing demand by consumers for healthier, great tasting food and beverages. As many as 1 in 4 coffee drinkers suffer health problems related to coffee acidity, and Puroast® looks to have a product that is both great tasting and doesn't produce the acid burn caused by conventional brew.
Puroast® is 100% gourmet coffee that has 50% less acid than all other roasted coffees on the market. Published research from the University of California and clinical surveys show that over 90% of those consumers so affected by coffee acidity can drink Puroast® with symptom relief from the usual acid reflux or heartburn caused by other brands.
A proprietary process is the foundation for this new coffee product, which solves the historic problem of providing rich, full-bodied coffee without causing stomach discomfort. Several doctors and pharmacists now recommend Puroast® as the coffee of choice for their patients with gastrointestinal health problems.
Puroast® will be rolling the product out with Walmart in their Southeastern Region stores. More information about Puroast Low Acid Coffee can be found online at http://www.puroast.com
###