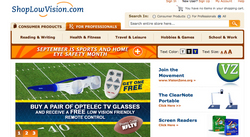 San Diego, CA (PRWEB) September 8, 2010
ShopLowVision.com, a one-stop low vision e-commerce site for consumers and eye care professionals, has unveiled the redesign of its website to better serve those who are visually impaired. As a sister company to Optelec U.S. Inc., a world leader in innovative and life-changing assistive technologies for the visually impaired and blind, ShopLowVision.com specializes in more than 4,000 low vision solutions ranging from electronic video magnifiers, daily living aids, magnifiers and assessment tools.
The ShopLowVision.com redesign not only increases the accessibility of the site for visually impaired users, but also better meets the distinct needs of consumers and professionals. The website now offers the following:
•User-friendly interface, design layouts and screen reader compatibility
•Multiple options for background contrast colors and font size
•Detailed product descriptions with scrolling photo enhancements
•Navigation friendly tabs and categories
•User-generated content for product reviews with one- to five-star ratings
•Advanced product search function by category and price range
•Activity driven searches, monthly promotions and online account access
Low vision consumers can identify products available for purchase on ShopLowVision.com through key categories as they relate to school, on-the-go, at-home or at-work needs. These topics include: Reading & Writing, Health & Fitness, Travel & Leisure, Hobbies & Games, and School & Work. Whether a low vision or blind user needs to purchase Large Print Bingo Cards, Optelec Power TV Glasses, Liquid Level Indicator, Jitterbug Cell Phone, or ZoomText Screen Readers, ShopLowVision.com has it all.
In addition, eye care professionals can create a secure account and user login to access order history, shipping status, and recommended items for their practice. The products available for professionals include Spectacles, Magnifiers, Loupes, Absorptive Lenses, Charts & Assessments, Electronic Low Vision, Accessories and Kits.
For a limited time, all ShopLowVision.com web orders will receive free ground shipping. Ongoing promotions and contests will also occur through social networking on ShopLowVision.com's Facebook page and Optelec's Facebook page and Twitter account, including the reveal of designated codes for web promotions to receive major discounts and ongoing rewards for product reviews. All subscribers to the ShopLowVision.com site and newsletter will be entered to receive a free Optelec Compact Mini video magnifier, valued at $395.
For more information on ShopLowVision.com, please visit http://www.ShopLowVision.com or call 800.826.4200.
An integral part of the Optelec family, ShopLowVision.com is one facet of the commitment to bridge the gap between awareness and solutions. To find out more information on ocular health, community involvement and how to join the low vision awareness movement visit http://www.VisionZone.org. For additional information on Optelec visit http://www.Optelec.com.
About ShopLowVision.com
With 30 years of experience in serving the low vision community as the leading designer and manufacturer of assistive technology devices, Optelec launched its sister company ShopLowVision.com in 2007. ShopLowVision.com is the first low vision e-commerce store with business to business, business to consumer, and business to professional interface all-in-one. In addition, it is the first e-commerce site aligned with best practice model for low vision rehabilitation, as established by the American Optometric Association (AOA), the American Association of Ophthalmology (AAO), the American Occupational Therapy Association (AOTA), and the Association for Education and Rehabilitation of the Blind and Visually Impaired (AER). For more information visit ShopLowVision.com
# # #