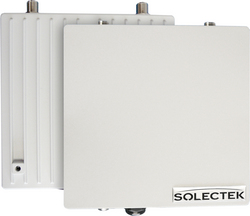 "The Excel 100 Series has broken new ground by offering our customers long distance MIMO performance at a fraction of the cost of existing solutions," David Gell, CTO at Solectek
San Diego, CA (PRWEB) September 8, 2010
Solectek today announced the price reductions of its Excel 100 Series and SkyWay 7101 PTP backhaul radio solutions. At an MSRP of $4,495, the Excel 100 series delivers top-end, MIMO driven performance at newly affordable pricing for both 4.9 GHz Public Safety and 5.8 GHz unlicensed applications. Now available with an MSRP of $1,795/link, the SkyWay 7101 is a best-in-class value leader in the unlicensed, 5.8 GHz band.
"We are pleased to be bringing improved pricing to the market for our unlicensed and Public Safety backhaul product lines. Improvements have been made in the production processes which allow us to offer these products with pricing lower than ever before," says Dan Sparks, VP Sales at Solectek.
The flagship in Solectek's unlicensed backhaul product line, the Excel 100 Series offers top end, 100 Mbps performance, carrier class features and Solectek quality and reliability. "The Excel 100 Series has broken new ground by offering our customers long distance MIMO performance at a fraction of the cost of existing solutions," offers David Gell, CTO at Solectek.
With deployments in over 100 countries, the SkyWay 7000 Series is a field-proven solution for the unlicensed 5.8 GHz band. "The 7101 PTP backhaul radio has been a workhorse for our customers and their networks. For many, it is the go-to product for point-to-point connectivity when cost is critical and performance and reliability must be assured," adds Mr. Sparks.
Both solutions offer IP/Ethernet connectivity with link distances up to 30 miles. Kits come complete with everything needed to install and commission a link including radios, integrated panel antennas (on specific models), mounting kits and on-board tools and management capability.
In addition to the 7101 and Excel 100 products, Solectek offers a full portfolio of backhaul PTP links, including licensed microwave solutions. For product details, please contact Solectek sales at sales(at)solectek(dot)com.
About Solectek Corporation
Founded in 1989, Solectek has long been a leader in the broadband wireless networking industry. Headquartered in San Diego with offices/partners worldwide, Solectek has installations in over 100 countries. Solectek manufactures a full line of broadband wireless connectivity products including last-mile access, video surveillance transport and high capacity backhaul up to 1 Gbps spanning frequencies from 400 MHz to 70 GHz. For more information, visit http://www.solectek.com.
Contact:
Dan Sparks
949-922-2580
sales(at)solectek(dot)com
# # #