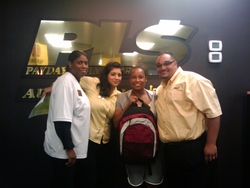 These children getting ready to go back to the classroom—they're our neighbors and our future, and we want to give them the greatest possible chance to succeed.
Chicago, IL (PRWEB) September 9, 2010
In dozens of cities and towns in Illinois, California, Texas, Arizona, Wisconsin, Indiana, Alabama and Mississippi, children are more ready than ever to embark on a successful new school year, thanks to backpacks filled with school supplies provided by PLS Loan Store. The company's annual "Back to School" promotion provided backpacks for 935 students.
But the backpacks carry much more than the notebooks, rulers, pens and glue with which they're filled. "Each backpack represents our investment in the success of a child's education," said Bob Wolfberg, President, PLS. "These children getting ready to go back to the classroom—they're our neighbors and our future, and we want to give them the greatest possible chance to succeed."
PLS's "Back to School" promotion, now in its third year, was honored in 2008 with the prestigious Activa Award by FiSCA (Financial Service Centers of America), the professional trade organization representing the nation's financial service center providers. The Activa Award is given to neighborhood financial service center providers which demonstrate outstanding examples of involvement and investment in the communities in which they do business.
The company donated five filled backpacks (valued at $22 each) for each of its 187 PLS Loan Store locations. The backpacks were given to area elementary and middle schools for distribution to students with the greatest need.
"We believe in being active participants in the communities in which we do business," stated Wolfberg. "Providing children with the supplies—and the encouragement—they need to get off to a good start is just something that good neighbors do."
Principals, administrators and school staff were quick to offer their appreciation. "Thank you for the outstanding job that your company did in preparing Batesville Elementary School for the opening school year," wrote LaSherry Irby, Batesville's principal. "It takes many dedicated people who are committed to helping our children in the community to be successful citizens. You have proven to be a partner in education."
"The kind donation of backpacks filled with school supplies will certainly make the beginning of this school year a special one for some of our needier students who would otherwise go without," wrote Leticia Estrada de Carreon, principal of Sierra Park School in Los Angeles.
"Thank you for your support of Chicago's students," wrote Dr. Kathleen Hagstrom, principal of the Walt Disney Magnet School in Chicago. "In today's tough times it is important to acknowledge your spirit of sharing."
A handmade sign from the students at Edgebrook School in McHenry, IL, said it best. "Thank you for the backpacks and school supplies. You make our heart sing."
About PLS: People. Location. Service.
Chicago-based PLS Financial Services, Inc., manages more than 300 financial service centers in Alabama, Arizona, California, Illinois, Indiana, Mississippi, New York, Texas and Wisconsin, with more than 3,100 employees. PLS is one of the largest, fastest growing and most distinguished organizations in the check cashing industry, and is a Western Union money transfer network.
PLS is listed on Inc. magazine's "5000 Fastest-Growing Private Companies in America," and for the past two years has been named one of Chicago's "101 Best and Brightest Companies to Work For" by the National Association of Business Resources. For the past three years, PLS was named one of Chicago's Largest Privately Held Companies by Crain's Chicago Business®, and was a member of Crain's "Fast 50" (Fastest Growing Companies). Bob and Dan Wolfberg, PLS Presidents, have been named finalists for Ernst & Young's 2010 Entrepreneur of the Year award. The company has also been honored with the Activa Award from the Financial Service Centers of American (FiSCA) in recognition of its charitable efforts.
The PLS brands include PLS Check Cashers, which offers check cashing, money transfer services, money orders and bill payments; PLS Loan Store, which provides consumer micro-loans and tax-preparation services; and PLS Motor Vehicle Services.
###