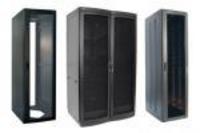 Colorado Springs, CO (Vocus) September 8, 2010
Installer's Choice rack enclosures, sold by Liberty AV Solutions, includes the Snaprax, Performance, and Titan Series.
The SnapRax Series is customizable to meet unique needs of all description, giving installers a way to deal with unforeseen space constraints, such as when they arrive at a job site and discover that the space for an enclosure is considerably smaller than what was described in the spec. They get assembled easily using four bolts on the top and four bolts on the bottom.
For applications where field assembly isn't as critical of an issue, the Installer's Choice Performance Series includes affordable welded racks designed to be loaded up with gear back at the shop, then transported to the job site, ready to connect to cabling.
As its name indicates, the Titan Series takes another step up in terms of load capacity, with a 5,500-lb. limit.
Installer's Choice enclosures include six door styles, drawers, cable management products, media storage solutions, vented side panels, shelves, faceplates, cooling fans and more.
Formerly known as Liberty Wire & Cable, Liberty AV Solutions is also offering a line of digital components from Intelix built to streamline the transition from analog to digital, Tripp Lite power protection and satellite connectivity products from Holland Electronics.
For more information, please visit libav.com.
###