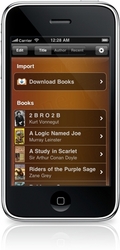 We wanted to provide an elegant, easy to use interface that could be easily personalized to the reader's needs and tastes.
Portland, OR (PRWEB) September 9, 2010
Inkstone Software today announces the launch of MegaReader—a highly customizable iPhone eBook reader that gives users the choice of over 1.8 million free books on the internet.
The MegaReder app has been designed to tap into book catalogs such as Feedbooks, Project Gutenberg, Baen Free Books, Smashwords, and the Internet Archive—allowing users to discover not only the classics (such as Sherlock Holmes, Pride and Prejudice, and War and Peace), but also up and coming modern indie authors and publishers.
"The MegaReader app is a fantastic way to explore the nearly two million public domain titles freely available from the Internet Archive's BookServer catalog. We are thrilled to contribute to Inkstone's efforts to bring the enjoyment of these books to readers around the world" said Peter Brantley, Director of the BookServer Project,Internet Archive.
Once books have been downloaded to MegaReader over Wi-Fi they can be enjoyed anywhere, anytime without the need for an internet connection.
Inkstone Software Founder Patrick Thompson said one of the key features of MegaReader, apart from the millions of free books on offer, was the advanced personalization it provided.
"Many reading apps currently available on the iPhone have rather utilitarian and confusing interfaces or they are very limited in the amount of customization you can do. We wanted to provide an elegant, easy to use interface that could be easily personalized to the reader's needs and tastes."
MegaReader gives users the ability to select one of 19 predefined color schemes, or to come up with one of their own from 1000s of available colors. There are also 23 fonts, 100s of font sizes and a variety of margin widths, line spacing, and text justification to choose from.
Portrait or landscape modes can be locked depending on preference, and there is a built-in speed reading test that is used to calculate and display how long it will take to finish a chapter.
Users can easily navigate and search for books or authors from within MegaReader by browsing categories (such as mystery, action and adventure, romance, science fiction), viewing popular or recently added books, or looking at recommended reading lists and reviews.
The app is preloaded with 22 books to start users off, including works from Jane Austen, Dale Carnegie, Agatha Christie, Paulo Coelho, F. Scott Fitzgerald, Jack London, and Kurt Vonnegut. DRM-free books can also be imported over Wi-Fi.
The app also works with iBookshelf and MyLibrary—two popular cataloging apps—to keep track of all physical and digital media assets and to customize book cover images in MegaReader.
MegaReader is available for $1.99 from the iTunes store. Screenshots and more information are available on the MegaReader website at http://www.megareader.net.
Further info and media enquiries:
Patrick Thompson
Inkstone Software, Inc.
14525 SW Millikan Way #17837
Beaverton, OR 97005-2343
1-888-858-7969
About Inkstone Software:
Inkstone Software is also the maker of the popular QuickReader app—the top-selling speed reading app on the iTunes app store.
Combining proven speed reading technology with the books and content that readers enjoy, QuickReader is available through the iTunes App Store and is also available in a free Lite edition, a Young Readers' edition, and French, German and Spanish versions.
###