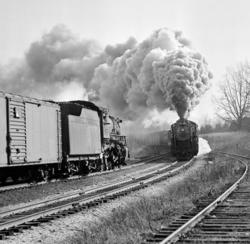 Sacramento, CA (PRWEB) September 8, 2010
In conjunction with the release of photographer David Plowden's new book "Requiem for Steam," an exhibition of his images will open October 1 at the California State Railroad Museum (CSRM) in Old Sacramento.
Sponsored by the Center for Railroad Photography and Art (CRPA), the traveling "Requiem for Steam" exhibit features 31 of the book's stunning black-and-white prints; it will appear at the museum through January 6, 2011. Images include towering views of steam locomotives in action, portraits of the men who operated them and studies of small-town depots, framed by an industrialized America that no longer exists. An online preview of Plowden's images appears at http://www.davidplowden.com/?p=282.
On Thursday, November 4, CRPA will host "An Evening with David Plowden," a private event where the artist will sign books and speak about his five decades of railroad photography. The wine and hors d'oeurves reception will begin at 4:30 p.m. at the museum; for more information and to purchase tickets, visit the center's Web site at http://www.railphoto-art.org/plowden.html.
Plowden will also lecture and sign books at public museum events on Saturday, November 6. Watch for more details at http://www.csrmf.org/. The museum is located at 125 "I" Street, Sacramento, CA, 95814.
Publisher W.W. Norton & Company will release Plowden's new book Requiem for Steam on October 9—the photographer's 78th birthday. It will be his fourth focusing entirely on railroad photography and showcase 134 photographs, many previously unpublished. Plowden has written all the text and extensive captions which detail his experiences as a photographer of railroads through decades of change.
In addition to viewing the exhibit, the November 4 and November 6 lectures present a rare opportunity to meet the celebrated photographer and author of more than 20 books. Plowden is renowned for his lively and passionate speaking style, inviting listeners to enjoy life and photography as much as he does.
Railroads, and particularly steam locomotives, were among Plowden's earliest photographic subjects. The oldest photo in Requiem for Steam dates from 1954, the year he turned 22. The most recent image was made in 2004. Throughout the 1950s and into 1960 he documented North America's last operating steam locomotives; since then he has trained his cameras on many other subjects, but has continued to photograph railroads and the industries they serve.
Plowden recently shifted all of his printing to the computer and Requiem will be his first digitally-produced exhibition. His inkjet prints are products of a meticulous workflow, equaling his silver-gelatin prints for visual impact. Scanning has enabled Plowden to print negatives that had become so badly deteriorated they could not be printed in the darkroom.
The exhibition will travel nationwide in 2011 and beyond. Those interested in scheduling a visit to a museum or gallery should contact the Center for Railroad Photography & Art at 1914 Monroe St., P.O. Box 259330, Madison, WI 53725-9330; telephone 608-251-5785, e-mail info(a)railphoto-art.org.
Note: Sample images by Plowden are available to media via the contacts below.
Media Contacts:
Scott Lothes
Center for Railroad Photography & Art
scott(a)railphoto-art.org
503-704-2836
Elrond Lawrence
Center for Railroad Photography & Art
elrondlawrence(a)att.net
831-632-2183
This press release was distributed through PR Web by Human Resources Marketer (HR Marketer: http://www.HRmarketer.com) on behalf of the company listed above.
###