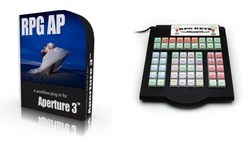 Portland, ME (PRWEB) September 9, 2010
The RPG KEYS company is excited to announce the latest imaging tool in their suite of photo editing keyboards. This product release expands their offerings to include a keyboard designed to integrate with Apple's Aperture 3™ application. RPG Keys products are all aimed at increasing the productivity, profitability, and creativity of professional photographers worldwide.
The 58-key, USB keyboard comes equipped with 54 programmable keys. Each of these 54 keys can accommodate 3 user-defined tasks allowing for customization to suit individual photographer's editing needs. The unique 3-tiered, programmable key system allows for a total of 162 Aperture™ specific macros to be programmed into the keyboard from a list of over 800 Aperture™ specific functions included with the product.
Additionally the RPG software includes a feature allowing individuals to import their own macros into the keys, adding endless opportunity for personalized expansion of the keyboard's functionality.
The RPG KEYS company also offers a module for Adobe® Photoshop®. Coupled with their new Aperture® keyboard, the two modules allow for a seamless integration from download to production for professional photographers. The keyboard recognizes when the user changes between Aperture™ and Photoshop®, allowing for a unique set of functions within each application.
"For years we have offered keyboards for a range of Adobe applications, but we are so excited to finally have a keyboard to offer professional photographers using Apple's Aperture 3™ application. Our goal, as a company, has always been to offer solutions to help photographers get their image editing done as quickly as possible so that they can spend more time taking photos, meeting clients and expanding their business." ~ Tim Riley, President and Founder of RPG KEYS.
System Requirements:

Aperture 3™ (English only)
1 Available USB 2.0 Port
Mac® 10.5.8 or newer (English only)
Purchase:

Available for purchase at:http://www.rpgkeys.com .
$499 for the software only (hardware required)
$670 for keyboard + software.
Bulk & wholesale pricing available.
Graphics:

Company logos & product photography can be found here:
http://www.rpgkeys.com/GRAPHICS.zip

Product "how to" video can be found here:
http://www.rpgkeys.com/product.php?productID=49
About RPG KEYS
RPG KEYS was founded by Tim and Chris Riley in 2004. RPG is short for "Riley PhotoGraphic", the name of their photography business. In 2004 Riley Photographic experienced immense growth that sparked the need for a faster method for processing images prior to client meetings. The flagship product, "RPG Keys for Lightroom®", was designed in order to speed the editing process while using Adobe's Lightroom® application. Since its inception, the RPG Keys crew has expanded their offerings to include keyboard solutions for use with Photoshop®, Bridge®, Adobe Camera Raw®, InDesign®, Photo Mechanic™ and other lesser-known industry standard applications.
Please direct all questions to Timothy Riley, 207-232-5838
###