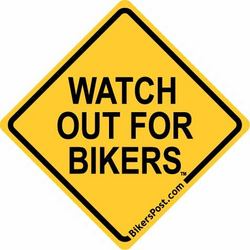 Port Charlotte, FL (PRWEB) September 8, 2010
BikersPost.com, a unique online community driven by motorcycle enthusiasts, has recently topped 100,000 fans on their Facebook page. This community is dedicated to supporting motorcyclists all over the nation, providing them with a venue specifically tailored to meet their interests and needs, and sponsor greater safety and awareness for bikers on the road.
BikersPost.com is an innovative social network, geared toward providing bikers with an environment in which they can connect with other like-minded individuals, share their passion and enjoy their preferred pastime. The website offers numerous features for members, as well. For instance, their Photos section allows members to post pictures, comment on those of other members and more. The Videos section offers members the chance to upload or link to their favorite videos.
This website also features a unique forum in which members can interact, ask advice, help others with questions and more. The Rides & Events section is filled with information about upcoming motorcycle events across the country, as well. The Doppler ZOOM Street Level Radar feature gives bikers up-to-the-minute weather information they need to plan a safe ride, while the Trader section functions as a marketplace for buyers and sellers of motorcycles, parts and accessories.
Other features of BikersPost.com include groups, a chat feature and the ability to create a member blog. However, the Watch Out for Bikers campaign is perhaps the one of greatest interest to bikers. This campaign is designed to increase awareness of and safety for motorcycle riders in all states.
The considerable success of the website is thanks in no small part to their immense range of features and valuable content. Bikers seeking an online community in which to interact with other enthusiasts, keep abreast of current goings on and developments in the world of motorcycles and more will find that this website offers them all that they want.
To find out more about this online community of motorcycle enthusiasts, visit http://www.BikersPost.com.
About BikersPost.com: BikersPost.com is an online community committed to and powered by bikers and motorcycle enthusiasts of all ages, genders and walks of life. With a suite of powerful features and in-depth information, this community offers numerous advantages to bikers.
###