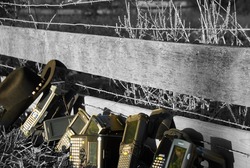 End users require handhelds that excel at RFID physics and this benchmark gives them scientific data to make better decisions.
Ashburn, VA (PRWEB) September 8, 2010
ODIN Labs, the scientific testing division of ODIN, the world leader in RFID software and solutions, today published the 2010 Handheld RFID Reader Benchmark™. The Benchmark is the fifteenth installment in ODIN's RFID Benchmark Series™ and represents the industry's first head-to-head scientific comparison of handheld RFID readers in five years. The thirty-six page Benchmark is designed to help end users differentiate between the many handheld models available today and their various strengths and weaknesses. Armed with this scientific input end users can make a well informed buying decision.
"Walmart may grab headlines, but handheld RFID readers are the workhorse of RFID solutions across more than 25 industries. From finding lost laptops to managing exceptions at dock doors, handheld RFID readers wrestle some of the toughest business process requirements," commented ODIN's founder Patrick J. Sweeney II. He added, "End users require handhelds that excel at RFID physics and this benchmark gives them scientific data to make better decisions."
Michael Myers the engineering lead from ODIN Labs who led the scientific RFID testing added, "With all the hype around the new Motorola handheld RFID reader someone had to put the marketing claims to the test. There are a lot more choices and better choices than five years ago, but there are also big differences in handheld reader performance and features. The Handheld RFID Reader Benchmark™ lays out for end users what is important and which readers lead the pack."
The eight handheld RFID readers evaluated in the Benchmark (download here) include:

Motorola MC3090-Z (FCC)
Motorola MC3190-Z (ETSI) *(name may change before official launch)
Intermec IP30 (FCC)
Intermec IP30 (ETSI)
CSL CS101
Unitech RH767
MacSema PCE 4050
Symbol MC9000 (FCC model also included in 2005 Benchmark)
Each of the RFID readers was subjected to a rigorous scientific test protocol and a battery of head-to-head competitions. Readers were evaluated against several criteria in three categories: performance, flexibility and ergonomics. Each category provides insight into how the various handhelds compare for a variety of use case or application requirements. End users can apply this data in developing their short list for handheld vendor models.
Data for all eight readers are available in the RFID Handheld Reader Benchmark™ which is ODIN's fifteenth installment in its RFID Benchmark Series™. The Benchmark can be purchased for $750 at: http://odintechnologies.com/rfid-benchmarks-handheld-readers.
Key Questions answered by the RFID Handheld Reader Benchmark™ include:

Are linear or circularly polarized antennas better for handhelds?
Does Motorola's new antenna technology live up to the hype?
Do the Asian handhelds compare favorably to the U.S. models?
About ODIN
ODIN is the leader in RFID solutions for healthcare, aerospace, financial services, and government agencies, and is the only company to produce a true operating system for RFID devices, EasyEdge. ODIN's EasyEdge™ software reduces implementation and support cost and has been successfully used at dozens of companies across more than 350 sites worldwide to ensure accurate and scalable RFID implementations. Global corporations on five continents leverage ODIN's expert engineers and patented RFID software to achieve accuracy, speed, and visibility for their RFID deployments. In addition to packaged solutions, implementations, and engineering, ODIN publishes the RFID Benchmark Series™, the industry's first and most referenced head-to-head performance analysis of RFID equipment. ODIN serves clients from offices in Ashburn, Virginia, Dublin, Ireland and Budapest, Hungary. http://www.ODINtechnologies.com
# # #