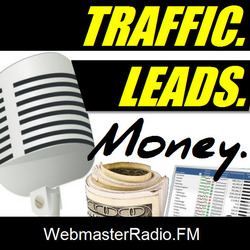 Fort Lauderdale FL (PRWEB) September 8, 2010
The organizers of the 2010 Internet Marketing World Cup Competition have joined forces with WebmasterRadio.FM, the largest radio/podcast for the b2b marketplace, to present a new weekly radio series titled "Traffic. Leads. Money". The program debuts on Wednesday September 8th at 6pm Eastern, and will air every Wednesday after.
The radio series plans to, as the show's introduction states, "get the unbiased truth from real marketers, industry pioneers and trend setters." Traffic. Leads. Money. will feature open and frank discussions on current internet marketing related topics, as well as a "no holds barred" approach with key industry figures, micro-niche masters, and industry trendsetters.
Driving traffic; converting it into leads and monetizing them are the 3 pillars of Internet marketing. How to do that using methods that work in today's online environment is the premise behind Traffic. Leads. Money.
The show will also provide exclusive news and information on the ongoing 2010 Internet Marketing World Cup competition, which will determine the most profitable and duplicable Internet marketing systems. Contestants compete for $250,000 in cash prizes with $100,000 going to the top winner. The competition commences on Monday October 18th, 2010 and concludes on December 12th, 2010. The registration process for the Internet Marketing World Cup, which is free, is now open.
Listeners are able to interact with their questions and comments to the host and guests for each interviews, as well as all live WebmasterRadio.FM programming, by:

Following us on Twitter @webmasterradio
Becoming a member of the WebmasterRadio.FM Facebook page or…
Log in to our live 24-hour real-time chatroom monitored by our show hosts at http://www.webmasterradio.fm/chat.
You're welcome to post your comments and questions on the program by going to the Internet Marketing World Cup Blog (http://www.internetmarketingworldcup.com/blog) and search "Traffic. Leads. Money".
"Traffic. Leads. Money", airs every Wednesday at 6pm Eastern / 3pm Pacific on http://www.WebmasterRadio.FM. Episodes are archived exclusively on WebmasterRadio.FM, as well as on iTunes, at the Internet Marketing World Cup website and other premier podcast portals.
About WebmasterRadio.FM
WebmasterRadio.FM lifts the "veiled curtain" of the Internet, bringing the business community together through an interactive radio network. Its listeners are a global group, comprised of everyone from corporate executives and decision makers to small and mid-sized businesses and individual entrepreneurs. WebmasterRadio.FM's stellar line-up of radio programming includes "CoverStory" with Jiyan Wei of PRWeb, WebmasterRadio.FM's official newswire; "Market Edge" with W2/Racepoint Group Chairman Larry Weber; "SEM Synergy" with Search Engine Marketing Industry Leader Bruce Clay, "The Joel Comm Show" with New York Times bestselling author and serial entrepreneur Joel Comm and more. To tune into WebmasterRadio.FM's live content or check out the show lineup, please visit http://www.WebmasterRadio.FM.
About the Internet Marketing World Cup (producers of Traffic. Leads. Money.):
A transparent and real-time competition that showcases the most accurate, reliable and duplicable internet marketing strategies, methods and tactics to make money online. $250,000 in cash prizes, lifetime revenue share and inclusion into our recognition, exposure and authority program awarded among the top 20 finalists on the competition.
The founders of the IMWC, who are Top 10 vendors at Clickbank - the largest network for digital products, have over 16 years of combined online marketing experience in various niches - they have lived, experienced and done almost everything in the industry that is relevant to this project.
Media Contact:
Brandy Shapiro-Babin
954-309-5578
###