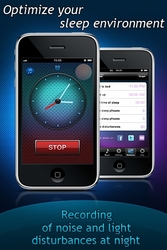 San Jose, CA, USA, (Vocus) September 9, 2010
Viaden Mobile, a successful developer of iPhone, iPod Touch and iPad applications in the Healthcare & Fitness and Games categories, has launched Sleep Tracker alarm clock: sleep cycles & noise recording, an app that is going to revolutionize the whole sleep-and-wake-up business.
There is no substitute for a good night's sleep. In order not to lose a single precious minute of it, one should be properly prepared. With Sleep Tracker, it has become easier to get just enough of that strength-restoring and refreshing sleep everyone needs.
Sleep Tracker is the result of long work of an entire team of developers. Its main boast that cannot be found in any other similar product is the ability to record noise and light disturbances during the night. Uniquely among alarm clocks, Sleep Tracker allows users to play back the noise and light disturbances, aligning the recording with the sleep cycle graph. This gives users a great chance to optimize their sleeping environment and eventually get more healthy sleep.
The app possesses other useful features that increase its value and overall performance. The built-in accelerometer is used to track the users' movements in their sleep, which helps the device to recognize sleep phases. Thus, the alarm will sound within the fixed time frame but during light sleep, when awakening is the easiest and leaves the user feeling fresh and energetic.
Sleep Tracker offers a choice of 4 wake-up modes for the iPhone and 3 for the iPod for every situation and way of life. Users may want to wake up at a fixed time or let the app decide on the best moment for awakening within the time frame they set, with the sleep cycle monitoring function enabled or disabled.
User-friendly even in small details, Sleep Tracker provides customizable sound settings. A number of tunes are available for awakening and falling asleep; users' own tracks from the iPod playlist can also be added to the selection. With separate volume regulators for wake-up and chillout tunes, users are free to experiment with the loudness and choose the optimal volume for morning and night tracks.
Yuri Gurski, Viaden Mobile CEO: "Given the high competition between alarm clocks on the App Store, we tried to make a really unique app that would give users more than a regular alarm clock. This is an intelligent app able to dramatically improve the quality of your sleep. In the world where time is money, with the ability to have just the right amount of healthy, revitalizing sleep, you're sure to make a fortune!"
Sleep Tracker alarm clock: sleep cycles & noise recording is now available on the App Store for $0.99
About Viaden Mobile
Viaden Mobile is an acknowledged producer of applications for iPhone/iPod Touch, iPad and other platforms. Its apps are among the most popular in the Healthcare & Fitness and Games categories.
###