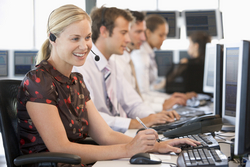 The service doesn't just work within Salesforce – it will install on e-commerce websites and elsewhere, where it takes the teeth out of international trade and ensures parcels arrive where they're supposed to.
New York, USA and Worcester, UK (PRWeb UK) September 8, 2010
Dow Jones & Company, publishers of the Wall Street Journal, has refitted its billing system for international advertisers with 'groundbreaking' worldwide address entry and validation software from Postcode Anywhere.
The service enables Dow Jones staff to enter accurate and validated account and contact data from across the world in a fraction of the traditional time, thanks to new auto-fill technology that looks up and completes the entire address after just a few keystrokes. It has been implemented as a plug-in to Salesforce's online customer management software, which Dow Jones already uses.
Postcode Anywhere's Managing Director Guy Mucklow said: "The Wall Street Journal has always been at the heart of international business, so it's perfectly fitting that Dow Jones should be among the first American businesses to adopt this groundbreaking kind of worldwide address verification and auto-completion.
"We are living in an interconnected world where the final barriers to truly global business are simply technicalities to be overcome. Geographical boundaries are really only significant now because of the political and cultural differences they represent. But these final differences can have huge consequences.
"To my mind, nothing illustrates this better than the variation in address formats around the world. Whether it's down to a choice of languages, postal codes, scripts, or even deciding whether to put the surname first or last, one simple error could result in offence, lost mail, or even worse, a lost customer.
"Postcode Anywhere's system dramatically cuts the time needed to take down an address, but even more importantly, it ensures details are accurate and correctly formatted when they go into your database.
"The service doesn't just work within Salesforce – it will install on e-commerce websites and elsewhere, where it takes the teeth out of international trade and ensures parcels arrive where they're supposed to."
Bill Doane, Advertising Projects Manager for Dow Jones, said: "We wanted to capture accurate customer and contact address data for our print and online advertising billing information. With offices in Asia, Europe, North and South America, we needed an address validation solution with the ability to populate addresses over a wide range of international territories and formats.
"We looked at competitors – in fact we had already beta tested a competitor product – but it was only effective at a domestic level (only recognizing ZIP codes) and came with hidden costs.
"We've already saved significant time and money by putting only accurate address data into our billing system. We have some 30-40 new accounts to process daily. Before Postcode Anywhere's solution this would involve the intervention of our sales representatives, pulling out the errors and entering the correct data manually.
"It was really easy to deploy into our customer hub, with minimal IT support. It took a little bit of getting used to - it was quite a change for our internal sales people! But after a little training we've never looked back. Postcode Anywhere is great."
Postcode Anywhere's IT Director Jamie Turner said: "This software is smarter than traditional address validation. As the user types an address, the digits entered are cross-referenced against data from USPS, Canada Post and other international postal databases.
"The possible results are displayed and narrowed down until you can simply click on the full address, which auto-completes. An address entry process widely adopted in other parts of the world, we believe it is far better than validating the data after it's been entered, which can be problematic and needlessly time-consuming."
Postcode Anywhere's International Address service offers address auto-fill and validation for the Americas, Europe, UK, Australasia and parts of Asia. Software for just the US and Canada is also available.
For more information, please visit http://www.postcodeanywhere.com/international-address-validation
or http://www.postcodeanywhere.com/us-address-validation.
Media contact for Postcode Anywhere
Jim Williams – PR Executive, Postcode Anywhere
jim(at)postcodeanywhere(dot)com
+44 (0) 1905 888 570
Press centre at: http://www.postcodeanywhere.com/press-centre/
Press Pack download: http://www.postcodeanywhere.com/assets/PDFs/press-pack-2010.pdf
Full-size image available at: http://www.postcodeanywhere.com/assets/Stock/addressing.jpg
Notes to Editors:
About Dow Jones & Company
A leader in news and business information world-wide, Dow Jones is newswires, Web sites, newspapers, newsletters, databases, magazines, radio and television. Our publications inform the discussions and decisions of the world while our databases make the business world more transparent. We develop technology to transform information into insight. From 58 countries and in a dozen languages, we inspire audiences with authoritative, differentiated and trusted content.
About Postcode Anywhere
Postcode Anywhere has been providing address services for ten years and is the fastest-growing reseller of Royal Mail's Postcode Address File (PAF®). A multi-award-winning organisation, it has also appeared in successive Deloitte fast-growth European technology company lists. Postcode Anywhere supplies software and services which improve the day-to-day operations of over 8,000 organisations worldwide. Best known as a provider of address auto-fill and verification software, the company offers a range of data-driven services, including route planning and customer profiling. For more information about Postcode Anywhere, please visit http://www.postcodeanywhere.com.
Recent Awards and Recognition for Postcode Anywhere

Red Herring Top 100 Europe - 2010
Best Small IT Supplier of the Year - UK IT Industry Awards (finalist) – 2009
One of Europe's fastest-growing IT firms - Deloitte Technology Fast 500 EMEA 2008/9 & 2009/10
Dell Small Business Excellence Award (UK finalist) – 2009
Small-Medium Sized Business of the Year (regional finalist) - National Business Awards 2009
Orange Best Use of Technology (Midlands) - 2008 National Business Awards
Growth Business of the Year - Chamber Awards 2008
Small Business of the Year - Chamber Awards 2008
Customer Service Team of the Year (finalist) - National Customer Services Awards 2008
###