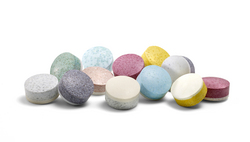 (PRWEB) September 10, 2010
Resveratrol is definitely one of the most interesting ingredients in the functional foods category, and has recently generated a wealth of attention. Gumlink A/S has now incorporated Fluxome® Resveratrol into its' patented compressed sugar-free chewing gum, which has been specifically designed to deliver health benefits to the consumer via nutritional ingredients. The prototype will be presented at the First International conference of Resveratrol and health that takes place in Denmark in September 2010. It will also be showcased at SupplySide West and Health Ingredients Europe this fall.
"Resveratrol has received a lot of focus lately and we wanted to be the first to offer the industry a new consumer-friendly application, in line with many of the latest trends such as convenience and enjoyment in staying healthy." says Thomas Jahn, business development at Gumlink Nutraceuticals. "Thanks to our ground-breaking taste-masking technology, able to secure a superior long lasting taste, our R&D specialists have successfully incorporated resveratrol into our patented dual-layered compressed chewing gum and we can now offer this concept to our global customers. We expect interest to be greatest in the US where the consumer awareness is highest, but also substantial interest on a global scale in the not-so-distant future. We believe that combining an innovative ingredient with a novel delivery system will attract a lot of interest from numerous customers willing to test drive this concept" For more information about Gumlink's patented dual-layered compressed gum please visit our website.
###