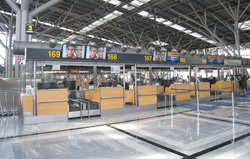 Net Display Systems and Siemens jointly upgrade Stuttgart Airport FIDS solution
(PRWEB) September 9, 2010
Net Display Systems is happy to announce that Stuttgart Airport]decided to upgrade her PADS digital signage solution. With annually approximately 9 million passengers Stuttgart Airport is one of the larger airports in Germany. Since 2006 the airport relies on the PADS software for showing FIDS (Flight Information), commercial advertisement and Live TV.
Together with Net Display Systems' global partner Siemens a roll-out of the entire solution was completed within three weeks after purchase.
Over 750 PADS viewers, informing and entertaining passengers at Stuttgart Airport, have been upgraded to the award winning PADS Professional 3.1 software. Most important reason for upgrading is that PADS Professional software has proven to be extremely robust and has no problem achieving an availability of more than 99.9 %. Also the modular and scalable design of the PADS Professional software makes the system a perfect solution for large airports like Stuttgart Airport.
Now 350 displays, ranging from LCD to large LED's, show FIDS related information such as Arrival information, Departure information, Check-in counter information, Baggage Belt information and Gate information. These screens, if not in operation for FIDS are also used for advertisement. Next to that 400 displays are solely in use for commercial use.
# # #