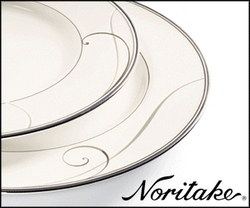 Our new website is a representation of Noritake's knowledge of the dinnerware customer, whether it be for a gift registry or a personal purchase to match one's lifestyle and personal taste.
New York, NY (PRWEB) September 8, 2010
Noritake is thrilled to announce the launch of their redesigned tableware website. Now live at Noritake.com, the site combines enhanced features and product interaction with social sharing and interactivity among family and friends. In addition, to celebrate the launch of the site, Noritake is offering up to 80% off on selected patterns in the Everyday Elegance collection.
"For more than a century, Noritake has made an art of setting the table and can help you collect pieces that cater to both casual and elegant dining experiences. Our new website is a representation of Noritake's knowledge of the dinnerware customer, whether it is a couple creating their wedding gift registry or an individual looking for dinnerware that matches their lifestyle and personal taste," says Peter Goldberger, Executive Vice President.
The launch of the new tableware website marks the enhancement of such basic features as the product purchase process and the site search, but also the debut of a number of new site features. The Shop section has been completely revamped; users can search for patterns based on seven preferences including color, material, and shape. The newly-introduced gallery section allows the user to view a number of lifestyle images, giving them an idea of the product's impact in a realistic scenario. A ShareThis button appears on each page to promote effortless sharing and discussion via Facebook, Twitter, and other social channels.
The Learn and Help sections provide site visitors with basic information on customer service, retail locations and the return policy, but also offer deeper information on the origins of fine dinnerware. Included in the Learn section is a five-part video called The Standard of Perfection, which provides an overview of the history of fine ceramics as well as a trip through the process of creating fine china and stemware.
Adding to the potential for interactivity over tabletop choices is the Favorites section. Users can add any individual product to their favorites, and then easily send an email to friends and family for opinions. The site collects votes on a scale as well and comments, and provides a collective rating back to the user.
In addition to the new content and functionality of the website, Noritake will also be offering special offers and opportunities through social networks as well as via an HTML email campaign. Future plans for the site include a blog (featuring content on bridal registry, home décor and entertaining) and a "mix and match" feature allowing users to design custom place settings.
Since 1904, Noritake has been bringing beauty and quality to dinner tables around the world. Superior artistry and craftsmanship, attention to detail and uncompromising commitment to quality have made Noritake an international trademark during this past century.
Today, Noritake is an acknowledged leader in tableware manufacturing and marketing with subsidiaries, factories and affiliates around the world. Our products are sold to customers in over 100 countries and are used in hotels, restaurants and airlines throughout the world. Join us in continuing the Noritake tradition... distinctive designs, innovative technology and superior product quality.
###