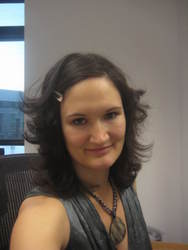 Kansas City, MO (PRWEB) September 9, 2010
Grantham University, an online university specializing in educating working adults, announced that the United States Army Warrant Officers Association (USAWOA) awarded a four-year Grantham University scholarship to Casandra Hutchins of Fairbanks, AK. The scholarship, valued at $36,000, covers tuition costs, required textbooks, software, and fees for an undergraduate degree.
Hutchins, who plans to pursue a Bachelor of Science in Business Management, was excited to learn that she had been selected for the scholarship. "Finally, I have the opportunity to return to school without feeling like I am going to burden my family financially," said Hutchins. "I have hit the proverbial brick wall in my career field, and my resume needs more substance in order for me to progress further."
With the flexibility of Grantham's accredited online degree programs, Hutchins will be able to balance a full-time job, her family, and school, yet not have to adhere to a set classroom schedule. When asked what surprised her most about online learning, Hutchins commented, "I am amazed by how user friendly the applications are and by how much I am taking away each week."
"Like many of our students, Casandra understands the importance of a college degree and the opportunities it will provide," said Dr. Cynthia Hoss, president of Grantham University. "We are excited to have the opportunity to make a difference in her life."
Grantham's 100% online degree programs allow students to access their coursework when and where it's convenient for them, so they can fit education into their lives instead of arranging their lives around education. In a recent Student Satisfaction Survey, nearly nine out of ten students stated that they would enroll at Grantham again.
About USAWOA:
Established in 1972, the United States Army Warrant Officers Association seeks to Foster a spirit of patriotism and devotion to duty among its members, recommend programs for the improvement of the Army, disseminate professional information among warrant officers, promote the technical and social welfare of its members, and promote a spirit of true comradeship among its members. To learn more, visit: http://www.usawoa.org.
About Grantham University:
Established in 1951, Grantham University is a private institution that specializes in online education for the working adult student. Its mission is to provide accessible, affordable, professionally relevant degree programs in a continuously changing global society. The University prepares graduates for careers in business, engineering technology, computer science, criminal justice, healthcare, nursing, information technology and other professional fields. Grantham University offers a military scholarship program for active duty, reserve, guard, veterans and military family members, as well as scholarships for law enforcement professionals. Grantham's courses are 100% online, allowing students to study at home, at work, on Temporary Duty (TDY) or from almost anywhere in the world. Accredited since 1961 by the Accrediting Commission of the Distance Education and Training Council, Grantham University has compiled a distinguished record as a respected and accredited distance learning university spanning six decades of service to education. For more information, visit http://www.grantham.edu or call 1-800-955-2527.
###