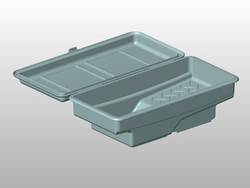 "I painted several days using one roller refill!" B. Hucks
Columbia, SC (PRWEB) September 10, 2010
Let's face it, painting can be a major effort. On the stress level, it's not quite up there with pouring concrete, but the good news is that there are ways to make it much less stressful. In a large painting job, most of us hate the interim cleanups which can take as much time as the painting itself. The problem is what to do with the paint roller during long breaks without cleaning up and wasting paint. Oh sure, we know all about the closed-up-in-a-plastic-bag-and-refrigerated trick. With this innovative "paint break" tray, dry-out is minimal and interim clean-ups are a thing of the past. With this tray there's only one clean-up, when the job is finished. When taking a break from painting, or storing overnight, the tray has an 'interior handle rest' allowing the tray to be closed, with roller and handle inside. It is also very useful as a wallpaper paste tray.
This innovative flip-top roller tray is made of sturdy, recyclable (pp5) polypropylene, and can be reused many times. Dried excess paint left in the open tray easily peels away, thus eliminating any wet paint clean-up. With no interim water clean-ups this is a no-brain-er for a cleaner environment. So, with the inherent 'green' attributes, the tray is being considered for endorsement from a national 'green' registry.
The tray is translucent, so if multiple paints are being used simultaneously, the paint colors can be readily identifiable. Also, the stack-able trays can be closed, conveniently stacked and stored away during lunch breaks, or overnight.
The product is made in the USA and shipped directly from the factory in the Midwest.
# # #