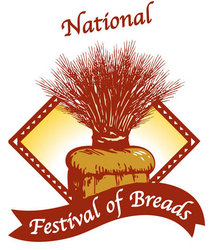 leaders in the adoption of profitable innovations for wheat.
Norwich, VT (Vocus) September 9, 2010
Dust off your recipe box and put your thinking apron on: King Arthur Flour, Fleischmann's Yeast and Kansas Wheat Commission are co-sponsoring the 2011 National Festival of Breads competition, which seeks the best bread recipes from home bakers throughout the United States. The competition is open to home bakers ages 18 and up from all over the nation.
Amateur bakers can submit original recipes for Ethnic Breads, Rolls, Time-Saving and Easy Breads, and Whole Grain Breads, to nationalfestivalofbreads.com. A secure, easy-to-use form is available for bakers to enter recipes; only online submissions will be accepted.
"The National Festival of Breads emphasizes the values of the age-old tradition of home baking, but also the role that bread plays in a healthy and active lifestyle," according to Tom Payne, director of marketing at King Arthur Flour, the competition's title sponsor. "King Arthur Flour strives to educate and inspire bakers of all ages and experiences and the National Festival of Breads provides a great way for bakers to share their talents."
The deadline for entries is Feb. 7, 2011.
The National Festival of Breads builds upon a rich tradition of grassroots support and is the nation's only amateur bread baking competition, says Cindy Falk, chairperson of the event and nutrition educator for the Kansas Wheat Commission. "This contest is a way for amateur bakers to be recognized for their baking skills and creativity," Falk said.
The Festival of Breads was established nearly 20 years ago by the WheatHearts, an auxiliary of the Kansas Association of Wheat Growers. In the original Festival of Breads baking competition, hundreds of amateur bakers from Kansas submitted their recipes during the bi-annual competition.
"The Festival of Breads started with Kansas wheat producers and has grown to this national event. It is a tribute wheat farmers, millers, home bakers and ingredient companies," Falk said.
New this year is a category for Best Bread Shaping or Sculpting. Submissions for this category require a digital photo of the bread, in addition to the recipe.
Judges will vet all entries and select eight finalists, each of whom will receive airfare to and accommodations in Wichita, to participate in national competition events June 23-25, 2011. In addition, each finalist will receive a $500 cash award, participate in a Wheat Harvest Tour to a working Kansas wheat farm, flour mill and grain elevator, and take part in other activities.
The public is invited to watch the finalists bake their recipes on-site in Wichita on Saturday, June 25, 2011. Other National Festival of Bread activities that day include baking workshops, a miniature trade show, bread tasting and door prizes. These events are free of charge to the public.
Meanwhile, judges will evaluate the finalists' entries based on taste, originality, ease of preparation, healthfulness and appearance. One Grand Prize Winner will receive an all-expenses-paid trip to a baking class of his or her choice at the King Arthur Flour Baking Education Center in Norwich, Vt., a year's supply of Fleischmann's Yeast, plus $2,000 cash.
Additional information, past recipes and a summary of the 2009 contest are available on the official contest website, nationalfestivalofbreads.com.
King Arthur Flour is not only the nation's oldest flour company, it is the single largest educator of home bakers in the world. Founded in 1790 and employee-owned since 1996, the company conducts free baking classes nationwide for both adults and middle-school students, and offers a wide variety of baking classes at its Baking Education Center in Vermont. King Arthur Flour's fundamental mission is to be an education and product resource for, and inspiration to, bakers worldwide.
Kansas Wheat, based in Manhattan, is the cooperative agreement between the Kansas Wheat Commission and the Kansas Association of Wheat Growers, with a common vision of "leaders in the adoption of profitable innovations for wheat."
###