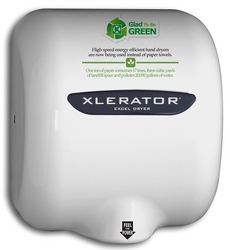 East Longmeadow, MA (PRWEB) September 14, 2010
XLERATOR® Custom Cover, high-speed, energy-efficient hand dryer (XL-SI) has been voted by convenience store retailers as Convenience Store Petroleum (CSP) Magazine's Retailer Choice Best New Product in the general equipment category for 2010.
American made XLERATOR XL-SI offers exclusive digital imaging technology that allows buyers to design their own graphics for XLERATOR hand dryers with company logos, team mascots, school colors, or a green message that communicates an organization's commitment to environmental sustainability. Excel Dryer's imaging technology allows the dryers to be branded with a fully integrated design, rather than a sticker or other surface brand that could easily be marred or removed. Buyers can supply their own digital artwork or develop the cover graphics with the help of Excel Dryer's design team.
"We appreciate the support from retail customers who voted for XLERATOR XL-SI Custom Cover hand dryers," said William Gagnon, vice president of marketing and key accounts, Excel Dryer, Inc. "Along with XLERATOR's long-standing reputation for performance and cost savings, the CSP best new product award reinforces Excel Dryer's commitment to helping its customers save time, energy and the environment."
XLERATOR dries hands three times faster, uses 80% less energy than traditional hand dryers and delivers a 95% cost savings vs. paper towels, while creating a more hygienic restroom environment. XLERATOR is the only hand dryer to be MADE IN USA Certified and the first hand dryer to be GreenSpec® Listed. It also helps facilities qualify for multiple LEED® (Leadership in Energy and Environmental Design) credits issued by the U.S. Green Building Council.
In addition to meeting the demands of today's sustainability initiatives, XLERATOR dryers can help facility managers save time and money by eliminating the cost of paper towels, their maintenance and waste. XLERATOR recently teamed up with the New England Patriots to launch Get Drafted, a Web site aimed at encouraging facility managers and business owners to make the call to go green by switching from paper towels to high-speed, energy-efficient hand dryers.
Currently, XLERATOR is installed in a variety of high traffic convenience store restrooms, including 7-Eleven®, Circle K®, RaceTrac®, and Valero®.
# # #