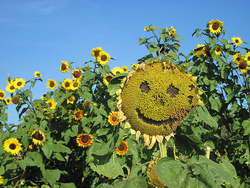 Take a mini break with your children and have fun. Run through a maze of corn, hug a scarecrow, sip apple cider and pick the perfect pumpkin. Create memories to last a lifetime.
Tampa, FL (PRWEB) September 10, 2010
Mini breaks can make a world of difference. We know that pint-sized fun is better than no fun at all whether it's a daytrip or a weekend escape, enjoying time together and making family memories matters. Based on reader feedback theFamilyTravelFiles.com has expanded the Best Fall Festivals & Corn Mazes for 2010 to include more mazes and festivals in the USA plus terrific spots in Canada.
The Best Fall Festivals and Corn Mazes for Families for 2010 regional lists reveal a plethora of chances to have fun with kids. The lists span eight distinct geographic regions in the USA plus three regions within Canada.
The collection of festivals and events runs the gamut from barnyard mini-golf in Vermont and pumpkin bowling in Kansas to pig races, hayrides, living history, and the most remarkable corn mazes on the continent. Mini breaks in Canada include plenty of pumpkin patches, scarecrows, hay rides, corn piles, and apple picking plus corn quests in Nova Scotia and a cranberry bog encounter in British Columbia. For night owls there are maze adventures by moonlight or flashlight.
Celebrating the season takes more than corn, pumpkins and apple cider. To be the best means offering families clever ways to add to the fun of the season. The best for 2010 was compiled from Family Travel Files staff favorites as well as suggestions by readers who took the time to "Tell Mom" about their favorite fall festival or corn maze.
The expanded list of family friendly Fall Festivals & Corn Mazes may be viewed at theFamilyTravelFiles.com by clicking on the special green and yellow folder labeled "aMAZEing Fun" or by selecting a region of the country and viewing the relevant feature. To expand the list for the future readers are encouraged to "Tell Mom" about their favorite family corn maze or fall festival.
Readers may become a fan of Family Travel Files on Facebook and keep up with the latest family vacation news or follow Family Travel Files Blog and provide feedback as news is posted.
About theFamilyTravelFiles.com
TheFamilyTravelFiles.com is one of North America's top-rated online family travel resources offering more than 1000 pages of timely family vacation ideas. The user friendly website specializes in displaying family vacation experiences, road trip getaways, destination information, ideas and advice about family travel. Unique lifestyle focus folders contain articles and vacation ideas highlighted in lifestyle folders: Family Tours, Reunions, Beaches, Soft Adventures, Mountain Tops, Cruises, Theme Parks, Snow Places, Green Spots, Camp Out, City Takes, Golf, Secret Places, and Free or Almost Free.
###