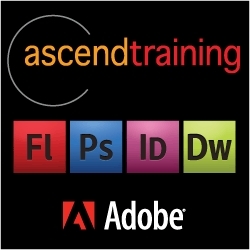 "We are very pleased with our recent growth," said Jori Curry, President of Ascend Training. "Expanding our space in Chicago, along with our recent 2009 expansion, will allow for increased offerings Adobe CS5"
Chicago, IL (PRWEB) September 20, 2010
Ascend Training, leading provider of Adobe classroom training, is expanding their downtown Chicago training facility to accommodate dramatic growth in 2010. Due to overwhelming demand for Adobe CS5 training, Ascend will be able to offer more Adobe, Apple and development classes.
Driven by ever-growing new customer volume, Ascend is expanding their offerings to include iPhone Development Classes, HTML Email Development and Web Development 101: Building Sites with Wordpress.
"This latest expansion demonstrates our commitment to the Chicago creative and development communities," said Jori Curry. "We have been offering our unparalleled classes since 1998, and all our instructors are the top experts in the industry."
An Adobe Authorized Training center and partner with Adobe Systems, Ascend offers classes from Fundamentals to Advanced in Dreamweaver, Flash, Actionscript, InDesign, Illustrator and more.
Ascend Training is also partnering with Mogo-Media to bring The InDesign Conference to Chicago November 2-4th, 2010. This 3 day InDesign extravaganza features the top experts in the industry that will bring the best and brightest InDesign users from all over the world. This event has been held in Seattle, Tokyo, Stockholm…and now Chicago.
Listing of our 2010-2011 Hands-on Class Dates:
Dreamweaver Training
Adobe Dreamweaver CS5 Level 1: Website Development and CSS
This Level 1 class is for new Dreamweaver users and those that have not had formal training. We offer a 3-day course to provides web designers the skills to create and publish professional websites. This hands-on class enables students to go out in the world and work extensively with Dreamweaver.
Chicago Dates
Sep 27 - 29
Oct 18 - 20
Dec 1 - 3
Jan 17 - 19
Deerfield Dates
Nov 15 - 17
Dec 28 - 30
Feb 7 – 9
Adobe Dreamweaver CS5 Level 2: Advanced Website Development and New CS5 Features
Chicago Dates
Oct 11 - 13
Jan 5 - 7
Feb 23 - 25
Apr 25 - 27
Deerfield Dates
Nov 1 - 3
Mar 7 – 9
Flash Training
Adobe Flash CS5 Level 1: Rich Content Creation
This class enables students to create Flash animations with text, video, graphics and sound. Whether you are new to Flash, or just need to fill holes in your knowledge, this comprehensive class enables students to become solid Flash developers.
Chicago Dates
Sep 22 - 24
Oct 25 - 27
Dec 13 - 15
Jan 10 - 12
Feb 16 – 18
Deerfield Dates
Nov 29 - Dec 1
Jan 19 – 21
InDesign Training Classes
Adobe InDesign CS5 Level 1: Fundamentals to Intermediate
This class is for those new to publishing and Adobe InDesign. Students learn about typography, importing graphics with Frames, and manipulating objects.
Chicago Dates
Sep 23 - 24
Oct 25 - 26
Nov 29 - 30
Jan 27 - 28
Mar 21 - 22
Deerfield Dates
Oct 4 - 5
Dec 13 - 14
Feb. 14 – 15
Adobe InDesign CS5 Level 2: Advanced Master Class
Chicago Dates
Oct 21 - 22
Jan 24 - 25
Deerfield Dates
Dec 20 - 21
Feb 21 - 22
Photoshop Level 1: Fundamentals to Intermediate
Chicago Dates
Sep 30 - Oct 1
Oct 28 - 29
Jan 6 - 7
Feb 24 - 25
Deerfield Dates
Dec 2 - 3
Adobe Photoshop CS5 Level 2: Advanced and New CS5 Features
Chicago Dates
Oct 21 - 22
Dec 13 - 14
Feb 17 - 18
Deerfield Dates
Nov 18 - 19
Jan 20 - 21
###