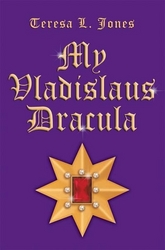 The real Dracula was a hero
Lake Park, IA (Vocus) September 9, 2010
Fans of Bram Stoker's Dracula, the many Van Helsing movies or even Twilight and TrueBlood may never learn the truth about the Prince of Wallachia, Vladislaus Dracula – the real 15th-century man behind one of the grisliest mythical characters ever invented.
My Vladislaus Dracula, a new historical fiction by Teresa L. Jones, is the only work of fiction to unearth accurate details of Dracula's real life, some never before revealed. The book is published by AuthorHouse.
"The real Dracula was a hero," says Jones, "who crusaded for the Pope and cared deeply about the people of Romania. He was falsely imprisoned, incredibly brave in battles, and determined to save his people from slavery by the Ottoman empire. This so-called 'monster' was a savior to thousands."
In order to explore this sensationalized and misconstrued real man, Jones entwines Dracula's story with that of a misunderstood modern-day woman, Amelia Justine Kari, who has felt a need to defend Dracula since she was a teen. Like the author, Amelia goes to Romania in her quest for the truth about "Vlad Dracula." There, she is led into a mind game of intrigue that reveals her destiny.
Jones says her book not only will entertain readers, but will also change minds about Dracula.
"This Dracula is nothing like you have heard or read about before," she says. "I really wanted to change his image. I hope I have done that."
My Vladislaus Dracula
By Teresa L. Jones
Published by AuthorHouse, April 2010
© 2010 Teresa L. Jones
Hardcover
ISBN: 1452005729
Retail price: $22.99
380 pages
About the author
Teresa L. Jones was born in Spirit Lake, Iowa, and graduated from college in Carson City, Nev. She now lives in Lake Park, Iowa, with her husband and children. This is the third book Jones has published within a year, after An Escape: A Secret Life and Prelude to a Christmas Carol. She is currently working on a sequel to My Vladislaus Dracula and a children's book called Early Squirrels.
AuthorHouse is the premier book publisher for emerging, self-published authors. For more information, please visit http://www.authorhouse.com.
EDITORS: For review copies or interview requests, contact:
Jason Gloye
Tel: 317.602-7137 ext. 225
Fax: 317.536.3775
E-mail: JGloye(at)bohlsenpr(dot)com
(When requesting a review copy, please provide a street address.)
###