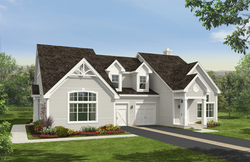 VIP's will be hearing from us soon with updated information and a schedule of Opening events
Montgomery, NY (PRWEB) September 10, 2010
In today's transitional real estate environment one New York 55 plus community is inspiring prospective homebuyers with a unique blend of natural beauty and state-of-the-art recreational amenities. Vistamor at Montgomery, a scenic enclave of cottage, classic and country homes, has drawn over 1,000 active adult "VIP's" seeking an exhilarating Orange County lifestyle.
"The response to Vistamor would be considered outstanding in a booming real estate market," notes Vicki Bibbo, Director of Sales and Marketing for Vistamor's builder, The Montgomery Group. "Registering an average of about 20, age 55-plus, homebuyers per week runs counter to all recent trends in the active adult, senior housing and retirement community markets. We believe that is because Vistamor is a unique community with a personality all its own."
Bibbo credits the shear natural beauty of the Vistamor site and valuable special incentives with much of the pre-opening excitement. She explains that Vistamor will occupy only 35 percent of a rolling 186-acre preserve that provides picture-postcard vistas as well as the Catskill Mountains. Since the majority of the land will remain in its natural state, Vistamor homeowners will always enjoy a front row seat to one of New York State's most splendid landscapes.
To maximize appreciation of Vistamor's uniquely open surroundings, these exciting NY homes, duplex condos and recreational amenities have been designed with the community's panoramic views in mind.
"Oversized windows and 11 foot ceilings in main living areas enhance the airy ambiance of each home," Bibbo adds.
Vistamor offers detached single-family and duplex homes of up to 2,420 square feet with either three or four bedrooms and a one or two car garage. Homes are beautifully appointed with upscale architectural details that enhance the active 55-plus lifestyle. Elegant features include tray ceilings in master bedroom and bath suites, dramatic open staircases and gourmet-inspired kitchens. Prices range from the mid-$200's to the $400's.
"The Vistamor at Montgomery lifestyle involves much than soaking up the scenery," says Bibbo. "Our full time activities director will coordinate everything from trips to cooking and aquacise classes, movie nights showing a vast collection of 3,000 films and more."
Vistamor's recreational facilities also complement the community's unspoiled surroundings. Miles of trails with elevated boardwalks wind through the countryside, while a magnificent 8,500 square foot clubhouse, called the Veranda, provides both outdoor and indoor swimming pools, all weather tennis courts and a state-of-the-art fitness center with exercise equipment, his and hers locker rooms, a sauna, steam rooms and treatment rooms. The Veranda is also home to the library and plenty of space for cards, billiards and socializing. The Great Room, at the hub of The Veranda, features a stone fireplace and a piano.
Set near Interstate 84 in Montgomery, NY, Vistamor is convenient to shopping centers including the Woodbury Commons Outlets, major commuter routes, Stewart International Airport, local farm markets and numerous public and private golf courses. The Catskill region is also a sportsman's paradise, rich with opportunities to enjoy fishing, boating, hiking, biking and skiing.
"VIP's will be hearing from us soon with updated information and a schedule of Opening events," Bibbo said. "Anyone interested in signing up for our VIP list can visit vistamor.com for more information."
###