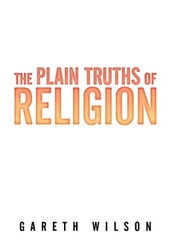 Religion is a duplicitous invention of primitive humans, diametrically opposed to our moral intuition, and driven by belief in gods whose existence is neither evident nor probable
(Vocus) September 9, 2010
Introducing a text so passionately secular, some readers may be left expecting it to burst into flames upon its conclusion. In The Plain Truths of Religion (published by AuthorHouse), emerging author Gareth Wilson offers a raw and thorough critique of what he perceives as religion's illogical basis and detrimental influence upon wider society.
"Religion is a duplicitous invention of primitive humans, diametrically opposed to our moral intuition, and driven by belief in gods whose existence is neither evident nor probable," says Wilson.
Wilson contends in The Plain Truths of Religion that indoctrination of youth with religion is "a danger" to young minds and stints progression of a child's growth. He adds that religion is a control mechanism, exploiting human's innate fear of death with the promise of an afterlife. Wilson also explains his belief that religion dehumanizes people by extinguishing human moral impulses and that religion has been the source of terrorism and international conflict throughout history.
The book includes 13 chapters that dispel common religious beliefs and detail why they hinder our growth as a species. Among these include:

A Broadside: Religion is a danger to young minds
From Nothing to Bach: Religion favors improbability
Dehumanism: Religion is bereft of morality
Allah vs. The Exodus: Religion is to blame for the Israeli-Palestinian conflict
The Point of Islam: Religion causes terrorism
Hitler and Stalin: Religion is not exonerated by evil atheists
About the Author: Gareth Wilson is a forthright advocate of secularism, maintaining that religion is baseless, religious beliefs are superstitious and religion is a negative influence on human behavior. The Plain Truths of Religion is Wilson's first book.
AuthorHouse is the premier book publisher for emerging, self-published authors. For more information, please visit http://www.authorhouse.com.
###