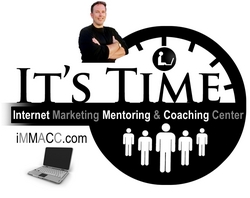 I am 100% confident that the skills I have learned since joining IMMACC will put all 4 of my kids through private college and provide for my retirement as long as I keep implementing them, and stay up to date with the weekly IMMACC trainings that alert me to changes in the online world
Minneapolis, MN (PRWEB) September 8, 2010
IMMACC, the Internet Marketing Mentoring and Coaching Center is launching in mid- September 2010. Founded as an online marketing affiliate program in 2007, it has grown into arguably one of the largest ongoing internet marketing mentoring and coaching programs on the web. With over 700 hours of proprietary videos covering nearly every method of driving traffic to a website, members are sure to learn tips to improve their online presence.
The upcoming launch of IMMACC resulted from a shift in branding that started in early 2009. IMMACC members get access to the vast library of marketing training as well as access to multiple weekly interactive live webinars. These webinars are often recorded and archived for the members. As this library grew, and as more business owners experienced success in learning how to market effectively, the company transitioned from a product based business to a coaching and mentoring program.
IMMACC CEO Gerald Van Yerxa, the founder and head IMMACC trainer has an extensive background in electronic media marketing including co-ownership of a privately owned chain of radio stations in western Canada as well as an advertising agency. His vision for IMMACC is for it to be the largest online resource for any type of business owner who wants to increase the effectiveness of their web presence.
IMMACC members that do not have a traditional brick and mortar or home business can still profit from an IMMACC membership by taking advantage of the lucrative affiliate program that is free for all IMMACC members. This affiliate program pays a minimum of $1000 for every new person introduced to IMMACC as well as a minimum of a $1000 override for every member that a new member introduces to IMMACC. This "matching override" can result in a very significant income for IMMACC affiliates. Many affiliates enjoy multiple $1000 overrides weekly from the efforts of their teams.
IMMACC members also get access to the free keyword research done by the company. Every month, IMMACC completes a minimum of 10 hours of keyword research targeting various online niches. Marketing firms usually charge $200 or more per hour, but IMMACC members get free access to thousands of keywords monthly from the company.
Potential members or pupils of IMMACC are given many tools to use in completing an IMMACC review to see if it is right for them. There are 4 live webinars nearly every week and potential members can also get access to a sample training from one of the 150+ training theaters within the IMMACC archives.
Steve Jankowski, one of the founding members of IMMACC knew nothing about marketing on the internet when he first met Gerald Van Yerxa in December 2007. He credits what he has learned since joining the IMMACC program with his success in helping many business owners and individuals create significant traffic online. When asked what sets IMMACC apart from other SEO firms and online marketing consultants, Jankowski said, " the emphasis in the free organic tactics of optimizing a website can help any business grow when marketing budgets are tightening or even non-existent".
Jankowski also credits the amazing affiliate opportunity with the exponential growth of IMMACC. "I am 100% confident that the skills I have learned since joining IMMACC will put all 4 of my kids through private college and provide for my retirement as long as I keep implementing them, and stay up to date with the weekly IMMACC trainings that alert me to changes in the online world".
Prospective members can save substantially on an IMMACC membership. A complete IMMACC review and due diligence is recommended for anyone thinking about joining IMMACC as the training program does involve taking the time to learn cutting edge methods of marketing and for many members results in a significant paradigm shift in marketing concepts.
# # #