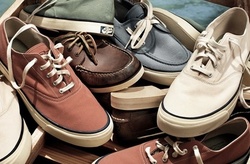 Taigan makes it possible for consumers to shop at their favorite boutiques and takes the pain away from retailers setting up individual e-commerce solutions.
Nashville, TN (PRWEB) September 9, 2010
One year, 59 specialty boutique shops, thousands of designer items, 30,000 registered online shoppers from 128 countries later; Taigan.com celebrates its one-year anniversary. Taigan's first 12 months add up to industry awards, editorial acclaim, online retail growth and international expansion – the exception to the norm in a sluggish bricks and mortar retail year. With 83 percent of consumers shopping online at least once a week, Taigan helps bridge the gap between savvy online shoppers and specialty retailers with an e-commerce solution that is catching the eye of investors, retailers, fashion industry media and shoppers.
A recent winner of the Retailer of Excellence Award in the Internet Innovation category, and a finalist for Technology Start-up of the Year, Taigan's one year marks a list of milestones. As Reed reports the elusive fashion finds in Taigan's Fetch, its exclusive online magazine aimed at the curated lifestyle; shoppers continue to find, follow and friend the online retailer on its social media networks such as Facebook, Twitter and multiple blogs.
Launched in September 2009, Taigan quickly grew into an international online shopping hub featuring a highly edited collection of shops in the US and abroad, representing designer apparel, gifts, home decor, gourmet food, wine, cigars and more. Based in Nashville, Tennessee, Taigan welcomes shoppers from over 128 countries monthly, adding new shops and thousands of items each month.
From Tuscan olive oil grove in Tuscany to natural skin care and cosmetics like Woo skincare and cosmetics, to children's designer shops in Aspen to notable menswear designer Sid Mashburn, Taigan gathers an eclectic yet well-heeled collection of talent and their wares.
"Taigan makes it possible for consumers to shop at their favorite boutiques and takes the pain away from retailers setting up individual e-commerce solutions. We've connected online shoppers with specialty retailers and designers all over the country and also globally," said Taigan founder Elizabeth Nichols. "It is so gratifying to see some retailers who weren't sure if they were going to weather the last yearn, now thriving on Taigan."
As retailers look toward the rapidly approaching holidays, uptick in spending is predicted— consumers say they will be spending as much or more this holiday season compared to last according to experts at Compete.
For more on Taigan stay connected on Taigan's Facebook Fan Page or Follow us on Twitter @TaiganFinds.
About Taigan
Named for the famed sight hound known for its keen hunting abilities, Taigan.com is a highly edited collection of the world's best shops from across the country and abroad. Showcasing specialty retailers of women and men's fashion, home décor, art, antiques, jewelry, gourmet food and fine gifts, Taigan brings the best shops to your fingertips. For the shopper, the collector, the epicure… Taigan delivers an extraordinary and ever-expanding collection of shops and purveyors. Shopping is free, guests are asked to provide their email address to use the site's messaging service with Taigan shops.
###