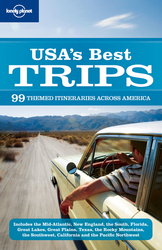 Oakland, CA (Vocus) September 10, 2010
Everyone knows road-tripping is the ultimate way to experience the USA. You can drive up, down, across, around or straight through every state on the continental map. We're here to help you narrow down the options. Whether you're on the quest for that perfect Pacific Northwest microbrewery pint, fresh lobster right off the boat in Maine or the coolest classic all-night diners in New Jersey, we've got you covered.
Part of our popular Trips series, USA's Best Trips: 99 Themed Itineraries Across America covers the whole continental US, including Alaska, bringing together a rich collection of short road trip itineraries –some iconic, some quirky- loaded with insider knowledge.
•Includes the Mid-Atlantic, New England, the South, Florida, the Great Lakes, the Great Plains, Texas, the Rocky Mountains, the Southwest, California and the Pacific Northwest
•Easy-to-use maps for every trip, plus driving times and directions
•Explore the country with trips ranging from two days to two weeks
•Theme icons make finding the perfect trip simple –no matter what your interest
•Local experts share their favorite trip ideas, including a food-lovers' tour of Northern California from Alice Waters and a musician's tour of the Midwest music scene
•Tune in on the road with our regional playlists
•Family-friendly and pet-friendly listings throughout
•Green index lists the most environmentally friendly options across the country
If you're a local looking for a long weekend escape or a visitor itching to explore, Lonely Planet's Trips series offers the best itineraries –and makes it easy to plan the perfect trip time and again.
About the Book:
USA's Best TRIPS: 99 Themed Itineraries Across America
712pp, paperback, $24.99
ISBN 978 1 74179 735 0
September 2010
###