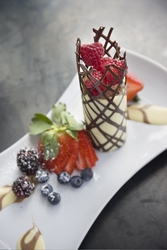 Having such prestigious restaurants on our program like Christopher's is an honor and we're proud to recognize them as the Restaurant of the Month
Arlington Heights, IL (PRWEB) September 9, 2010
Restaurant.com today announced that Phoenix-based Christopher's at the Biltmore Fashion Park has been selected as "Restaurant of the Month" for September.
James Beard Award-winning chef and owner, Christopher Gross, creates French-inspired American cuisine, complemented by co-owner Paola Embry, one of the nation's most respected sommeliers. Restaurant.com selected Christopher's for the spotlight based upon the restaurant's award-winning reputation for food and wine, celebrated signature dishes and fresh ingredients from local farmers.
"Having such prestigious restaurants on our program like Christopher's is an honor and we're proud to recognize them as the Restaurant of the Month," said Cary Chessick, Restaurant.com president and CEO. "This location has something for everyone, whether a romantic evening for two or a birthday celebration for a group."
As part of the recognition, Christopher's is featured on the Restaurant.com homepage with a link that directs site visitors to the "Restaurant of the Month" webpage: http://www.Restaurant.com/Christophers. The webpage offers information on Chef Christopher Gross for his extensive menu, his recipe for chocolate tower dessert which was featured on Julia Child's PBS series "Cooking with the Masters", along with a gallery of photos featuring Christopher's unique and award-winning American-French cuisine and the restaurant's array of distinctive dining rooms.
Christopher Gross's love for food and wine was born out of years spent discovering and learning about the craft in kitchens throughout Europe and the great dining rooms of notable American restaurants. Among his many media recognitions, Gross was named one of America's 10 Best New Chefs by Food & Wine magazine. Christopher's, the restaurant, was named Best New Restaurant by the Chicago Tribune and separately, by Esquire magazine. And, in 1995, the James Beard Foundation named Gross "Best Chef, Southwest".
Born and raised in the Vina Del Mar region of Chile, Paola Embry's passion for wine selection and expertise as a sommelier has earned Christopher's superior wine list recognition from Wine Spectator for more than 20 years.
"Restaurant.com offers us a meaningful connection to our diners and honest feedback about their experience that we use to ensure our guests are always satisfied and hungry for more," said Gross. "While we have many industry awards, this recognition speaks to the exceptional service our consumers have enjoyed which is just as meaningful to us."
Christopher's opened its doors to Phoenix diners in 1990, and made the renowned Biltmore Fashion Park location its current home in 2008. The restaurant offers a menu and atmosphere fitting a variety of tastes and personalities, with mouth-watering cocktails, soothing libations at the Crush wine bar, truffle-infused filet (the chef's favorite), or even pizza and burgers at the kitchen bar. Cozy booths in the main dining room set the scene for an intimate meal and private rooms seating up to 50 make the space great for entertaining large groups.
Throughout 2010, Restaurant.com is paying tribute to devoted customers, restaurant partners, clients, staff and community members through a series of 10-year anniversary activities. The Restaurant of the Month program continues the celebration. On the Christopher's "Restaurant of the Month" webpage, Restaurant.com includes a search box of popular cities so site visitors can find additional "10 Year Anniversary Featured Restaurants" in their area and explore other options in the Restaurant.com program. Christopher's joins other restaurants honored by the program such as SkyCity, Philly G's, Trece Mexican Kitchen and Tequila Lounge, The Claddagh Irish Pub, and Fior d'Italia since the program's launch in March. To learn more about the Restaurant of the Month program and the spotlighted restaurant for September visit: http://www.Restaurant.com/Christophers.
About Restaurant.com
Restaurant.com is the trusted and valued source connecting restaurants and diners nationwide. The company offers savings at more than 15,000 restaurants nationwide with more than 30,000 daily gift certificate options. Restaurant.com brings people together to relax, converse and enjoy well-prepared and -served meals at affordable prices. To date, Restaurant.com customers have saved more than $500 million through the gift certificate program. Restaurant.com has operated since 1999 and is based in Arlington Heights, Ill.
###