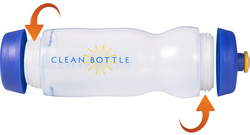 My 'Bottle Boy' costume was featured during 9 stages, and aired 3 times day, garnering Clean Bottle 27 mentions in front of millions of viewers
Portola Valley, CA (PRWEB) September 9, 2010
David Mayer, an avid mountain and road cyclist, was forced to wastefully throw his sports bottle out one day, having noticed that mold and mildew had grown in yet another bottle due to residue from the sports drinks he used to stay hydrated on long training rides.
On his next ride, he came upon an epiphany - "Why don't sports bottles have removable bottoms so that we can clean and dry them properly?" Bing! A market-changing concept was born.
Mayer got to work on researching and testing bottles, retaining a designer to help create working prototypes of his idea. After three years of trial and error, he finally had a bottle to bring to the bicycle industry trade show held in Las Vegas.
Armed with a 10x10 booth and his first production of bottles, market reaction was positive, but not overwhelming. Coming into spring 2010, online sales grew, but dealers were reluctant to take a one-item brand into their stores.
David came up with an idea. Working with a mascot designer, they came up with a life-sized "Bottle Boy" suit that David could wear at events to build awareness of his sports bottle.
Then came the Master Plan. He would run alongside the leaders of bicycle races at the two biggest cycling events on American television - the Tour of California, and the Tour de France.
After successfully obtaining national "guerilla" exposure several times on Versus TV at the ToC, he contacted Versus to create a partnership for the Tour de France. Several banner ads for CleanBottle.com were put up throughout the month-long broadcast, and every time Dave was seen in the race running alongside the leaders, his revolutionary bottle design was mentioned.
"After the Television announcers plugged Clean Bottle live at the Tour of California, I decided to buy a few small banner ads during the Tour de France so that I'd be a strategic partner with Versus," states Mayer. He then ran in his "Bottle Boy" outfit alongside the leaders of the race at the finish of the mountain climbs, to ensure that all viewers were glued to their TV screens at the most exciting part of the coverage.
"The marketing strategy worked beyond my wildest dreams," continues Mayer. "My 'Bottle Boy' costume was featured during 9 stages, and aired 3 times day, garnering Clean Bottle 27 mentions in front of millions of viewers." Versus even featured an interview with Dave and his Clean Bottle mascot - "Bottle Boy".
Sales grew immediately from four thousand dollars a month, to over four thousand dollars a day! REI expanded their distribution of bottles from online-only to all of their stores across the country. Distributors from all over the world are calling to get bottles onto the shelves of their customers.
Look for more to come from Clean Bottle and Dave Mayer - truly an American Success Story!
# # #