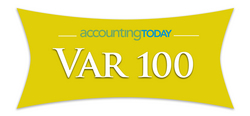 "Our firm is constantly looking for ways to better serve clients and use technology to help solve business problems. It is rewarding to have our team recognized nationally for their outstanding work." - Jack Ades Co CEO InterDyn AKA
New York, NY (PRWEB) September 20, 2010
InterDyn AKA, one of the most distinguished Microsoft Partners globally has been recognized by Accounting Technology magazine and it's online counterpart WebCPA as one of the country's top 100 value-added resellers of enterprise resource planning (ERP) and customer relationship management (CRM) business solutions. VARs are selected for the list and ranked based upon company and revenue size and growth from year to year, as well as the variety and value of the accounting software solutions they provide.
The article, published in Accounting Technology's special Report August 23rd 2010, highlights InterDyn AKA's ability to build loyalty among it's customers and team members. This year marks the fifth time in six years that InterDyn AKA has made the Top VAR 100 list and is ranked 28th for 2010.
"To be recognized as part of this list is a tribute to our team's dedication to growing our business and the commitment we have to our clients," said Jack Ades, Co CEO of InterDyn AKA. "Our firm is constantly looking for ways to better serve clients and use technology to help solve business problems. It is rewarding to have our team recognized nationally for their outstanding work."
This year, special consideration was given to organizations embracing vertical solutions. InterDyn AKA has expanded their reach into focus industries including ad sales and billing solutions with DynamicsADvantage for CRM and GP. InterDyn AKA also provides Advanced Distribution for Dynamics AX software, which s provides deep distribution functionality on top of Microsoft's industry leading Dynamics AX software.
With thousands of firms servicing these industries, it is a tremendous accomplishment for InterDyn AKA to be selected among the top 100 VARs. Along with the VAR 100 InterDyn AKA has consistently received numerous honors from Microsoft year after year including Global Partner of the Year finalist 2010 and Inner Circle membership which represents the top 1% of Microsoft Dynamics Partners worldwide.
About InterDyn AKA
InterDyn AKA is a leading Gold Certified partner dedicated to the sales, consulting, training and support of Microsoft Dynamics Business Solutions. InterDyn AKA focuses specifically on implementing and creating solutions around the Microsoft Dynamics GP (Great Plains), Microsoft Dynamics AX (Axapta) and Microsoft Dynamics CRM applications and Microsoft based portals and Business Intelligence (BI) solutions. As an InterDyn company, InterDyn AKA offers the advantage of specialized talents and industry expertise of more than 500 certified professionals supporting more than 3,500 customers worldwide. For more information about InterDyn AKA visit http://www.interdynaka.com.
###