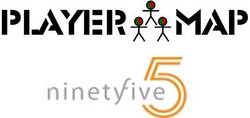 PLAYER MAP and Ninety Five 5 will enable clients to achieve and sustain sales excellence via the 5 Online cloud-based sales training community.
Milwaukee, WI (PRWEB) September 27, 2010
PLAYER MAP and Ninety Five 5 announced today that they have established a partnership in which they will integrate the proven PLAYER MAP System with the world renowned Sales Success System (S3) on 5 Online, the cloud-based sales training community that will enable companies to deliver world-class sales training that is both cutting-edge and cost-effective.
"I am thrilled with the opportunity to team with Ninety Five 5, and especially excited regarding the game-changing 5 Online, as it will enable people to learn, practice & sustain their sales performance," stated Scott Leland, Founder of PLAYER MAP. "PLAYER MAP and Ninety Five 5 have a natural synergy in our selling approach & philosophy, so working together enables us to deliver our clients a comprehensive & holistic sales approach that is truly world-class," Leland added. Randy Illig, CEO of Ninety Five 5 says "Formalizing our partnership with PLAYER MAP is quite natural. We first began working with the PLAYER MAP approach about 10 years ago. It is a great advantage to now offer our clients an integrated approach combining both the strategy and tactics of selling. We are delighted to have Scott's expertise and thought leadership available to our organization."
PLAYER MAP and Ninety Five 5 believe "Less Nonsense. More Sales.", and the simple elegance of their approach is proven and has helped top companies worldwide to improve their relationships and revenue with clients. 5 Online will strengthen sales performance even further, because as opposed to legacy sales training which is typically time consuming, expensive and not reinforced, the cloud-based 5 Online community is on-demand and evolving 24/7.
# # #