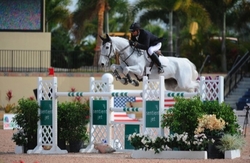 "We're delighted to be able to partner with a rider of the caliber of Ali, who's competed all over the world over the last 20 years. We look forward to a long partnership with him."
Hampton, NH (PRWEB) September 10, 2010
Shires Equestrian Products, an internationally known manufacturer and retailer of equestrian products, has announced that it has inked a sponsorship with Olympic show jumping rider, Ali Nilforushan. Shires, which is based in Leominster, England, holds a Royal Warrant from Queen Elizabeth II for providing equestrian equipment for horse and rider to the Royal Stables. While the company has selling its products in the U.S. for twenty years, it opened a U.S. distribution center two and a half years ago, and now sells in the U.S. both online at ShiresEquestrian.com and through dealers.
In announcing his company's sponsorship of the California-based Nilforushan, managing director Malcolm Ainge stated, "We're delighted to be able to partner with a rider of the caliber of Ali, who's competed all over the world over the last 20 years. We look forward to a long partnership with him."
Nilforushan is a true international rider. Born in Tabriz, Iran, Nilforushan has dual U.S.-Iranian citizenship. He began riding in Iran at age seven, then resumed riding at age 12 after moving to the U.S. Later, he lived and trained in Holland for three years, during which he qualified for the 2000 Olympics in Sydney as the sole—and first ever—equestrian competitor for Iran. He finished his pre-Olympic training in France where he spent one season post-Sydney, before returning to the U.S. to compete in the West Coast League. Since then he's had numerous Grand Prix and World Cup victories, including two World Cup wins aboard the Belgium Warmblood gelding, Warco Van De Halhoeve. Nilforushan will be taking the Darco son and his stablemate, Pegasus, to the Alltech FEI World Equestrian Games (WEGS), which are being held September 25 to October 10.
Like Shires, Nilforushan looks forward to a long-term partnership with his new sponsor. "In a sponsor, I look for a good team that's loyal and is looking to build a partnership that last through the ups and downs of this sport."
Nilforushan will head to the World Equestrian Games with a full complement of Shires products, according to Ainge. "Our staff in the U.S. is also working with our major dealers who will be at WEGS so those attending can see more of our product line and pick up a copy of our catalogue—so look for Ali and Shires at WEGS in Lexington."
Shires Equestrian Products is located in the U.S. at 1 Lafayette Rd., Hampton NH 03842. Call 603-929-3880 or visit the Shires Equestrian website. Shires products are available at tack shops throughout the U.S.
###