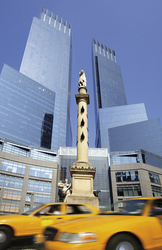 Newe York, NY (PRWEB) September 9, 2010
Mandarin Oriental, New York celebrates Mercedes-Benz Fashion Week's new Lincoln Center location just steps away from the hotel with an array of fantastically fashionable offerings and packages.
Mandarin Oriental and New York Magazine Join Forces to Create Fashion Headquarters
Mandarin Oriental and New York Magazine have partnered together during Fashion Week to provide the following special offerings:
Complimentary Pedi-Cabs between Mandarin Oriental and the Tents at Lincoln Center
It doesn't matter how close you are to the tents when you're wearing sky-high Louboutins or Manolos, so Mandarin Oriental and New York Magazine are offering complimentary, open-to-the-public pedi-cab transport between the hotel and Lincoln Center from noon – 5pm, Monday, September 13 through Wednesday, September 15, 2010.
Visit NY Magazine's Hospitality Lounge located on the ground floor of Mandarin Oriental on 60th Street for special giveaways, fashion deals and a complimentary New York Style Pass guide. Open daily from noon – 6pm, September 13 – 16, 2010.
People Watch Over Fashion Afternoon Tea in the Lobby Lounge
Mandarin Oriental's Lobby Lounge will serve a Fashion Afternoon Tea with an array of delectables including Hot Coco Chanel, Donna Karrot Cake and Apple Brown Betsy Johnson served with classic tea sandwiches and signature ginger scones and clotted cream. Fashion Afternoon Tea is $38 per person and is served daily from 2:30-4:30pm, September 9 – 16, 2010.
Two-for-One Cocktails for FASHION NIGHT OUT September 10th
MObar and Lobby Lounge celebrate Fashion Night Out September 10th from 7pm – 2am with a two-for-one cocktails menu to celebrate fashion's arrival in the neighborhood.
Fashion Inspired Cocktails by Top NYC Chefs
From September 14 – 16, MObar and Lobby Lounge will serve fashion-inspired Svedka Vodka cocktail creations including Mandarin Oriental, New York's Pret-A-Svedka, Chef Andrew Carmellini's Bot Blush, Chef Brandon Kida's Yen for Fashion, and Chef Pichet Ong's Bot C-Licious. Cocktail recipes and photos upon request.
Mandarin Oriental, New York Guests Enjoy Special In-Room Amenities
In celebration of fashion, suite guests at Mandarin Oriental during the week of September 13 will receive a complimentary "SWAROVSKI CRYSTALLIZED™ bracelet made of Aurora Borealis crystals. The special effect was jointly developed by Swarovski and fashion icon Christian Dior back in 1955. A 20% voucher will be offered for the store's 40+ designer collections.
All guests of Mandarin Oriental, New York during Fashion Week will receive a special invitation to enjoy a Saks Fashion Experience with professional Style Director, Renee Malpeli, a VIP Saks discount and a special gift compliments of Saks.
Fashion Week at The Spa at Mandarin Oriental, New York
Mandarin Oriental's Five Star Spa is launching its new Himalayan Salt, Sea & Chakra Therapy treatment a 3-hour intensive body treatment designed to de-stagnate and drain toxins while replenishing, rebalancing and relaxing the body and mind. It's the ultimate tune-up and a perfect way to rejuvenate after fashion week. For reservations call 212 805 8851.
On Saturday, September 11th, The Spa will launch its first complimentary Saturday make-over day with La Bella Donna's high quality mineral make-up from 11am - 7pm. Walk-ins are welcome on a first come, first served basis. Guests of The Spa and hotel guests can book make-over appointments in advance.
Fashion Week Give-Aways
Follow Mandarin Oriental, New York on Twitter and Facebook to learn about Fashion Week give-aways including:

Two tickets to the Vivienne Tam runway show Saturday, September 11th
Access to New York Magazine's exclusive Fashion Week party in MObar September 13 with Svedka Vodka cocktails designed by restaurant Asiate's Chef Brandon Kida, wd~50's Chef Wylie Dufresne, Chef Pichet Ong of Spot Dessert Bar, and Laconda Verde's Andrew Carmellini
One complimentary three-hour Himalayan Salt, Sea & Chakra Therapy treatment at The Spa at Mandarin Oriental, New York
Lobby Lounge Fashion Afternoon Tea for two
Lunch for two in restaurant Asiate at Mandarin Oriental, New York
Complimentary manicure/pedicure in The Spa at Mandarin Oriental, New York
Be Cool at the Tents with a Mandarin Oriental Fan September 14th at Lincoln Center, complimentary Mandarin Oriental fans will be distributed to 1,000 lucky recipients.
Mandarin Oriental, New York's Fall Fashion Week Package
Whether you're attending Fall Fashion Week for personal or profession reasons, Mandarin Oriental, New York is a conveniently located fashion headquarters. The Fall Fashion Week Hotel Package includes seven nights accommodation with a USD 500 credit and one complimentary spa treatment. Rates for the Fall Fashion Week package start at USD 1,075 per night and are based minimum stay of seven consecutive nights. This package is based upon availability. Rates do not include tax and gratuity. Additional nights and/or dates outside the package's dates of availability may be booked at prevailing rates. It is strongly recommended that the complimentary spa treatment be booked a minimum of 48 hours in advance to ensure appointment availability. An unused complimentary spa treatment cannot be redeemed for cash, products or other services. For reservations, please call +1 (212) 805 8800 or toll-free +1 (866) 801 8880, by email monyc-reservations(at)mohg(dot)com or visit http://www.mandarinoriental.com/newyork.
NYC Stylist Package
Fashionistas from around the world will have the opportunity to enjoy award-winning, Five-Star accommodations in Manhattan's chicly sophisticated hotel with a day of professional, one-on-one personal shopping with stylist Stacey Mayesh, one of the city's top celebrity and socialite stylists. Guests can tailor their stylist consultation with Stacey to fit their need for personal shopping, curating a new look, scouting for the perfect outfit for a special event or interview and/or wardrobe updates with "must haves" for the 2010 Fall/Winter season. Stacey Mayesh has over 15 years experience as a stylist and wardrobe consultant for top models, socialites and celebrities including Cameron Diaz, Susan Sarandon and Jessica Alba. She was also recently featured in Vogue magazine as a "one to watch" stylist. Mandarin Oriental, New York's NYC Stylist package is available until September 30, 2010. Package rates start at $5,515 and include:
Two nights' accommodation in a Deluxe room or higher
Questionnaire consultation prior to arrival
A day of shopping with professional Stylist Stacey Mayesh (up to eight hours)
Mercedes car service during the shopping session
Hotel tax, service charges and the cost of shopping purchases are not included in the package price. Additional nights of accommodation may be booked at prevailing rates. Bookings must be made no less than a week prior to arrival date. This package is subject to availability. For reservations please call +1 (212) 805 8800 or toll-free +1 (866) 801 8880.
About Mandarin Oriental, New York
A stunning fusion of modern design with stylish Oriental flair, Mandarin Oriental, New York features 248 elegant guestrooms and suites — all with breathtaking views of Manhattan and Five-Star hospitality. Luxurious amenities include Asiate, the hotel's elegant restaurant; MObar created by noted interior designer, Tony Chi; the Lobby Lounge with dramatic views of Central Park; a 14,500-square-foot, Five-Star Mandarin Oriental Spa; and a state-of-the-art fitness center with a 75-foot lap pool. In addition, there is premium meeting and event space, including a 6,000-square-foot pillar-less ballroom with three walls of windows overlooking Central Park. Located in Columbus Circle's Time Warner Center, Mandarin Oriental, New York is in an idyllic location just steps away from world-class dining, shopping and entertainment, including the Broadway Theater District, Lincoln Center, Central Park, Jazz at Lincoln Center and the Time Warner Center's collection of upscale retail shops and restaurants.
Mandarin Oriental Hotel Group is the award-winning owner and operator of some of the world's most prestigious hotels, resorts and residences. Mandarin Oriental now operates, or has under development, 42 hotels representing over 10,000 rooms in 26 countries, with 17 hotels in Asia, 14 in The Americas and 11 in Europe and North Africa. In addition, the Group operates, or has under development, 14 Residences at Mandarin Oriental, connected to the Group's properties.
Photography of Mandarin Oriental is available to download, in high and low resolution, in the Photo Library of our Media section, at http://www.mandarinoriental.com.
###