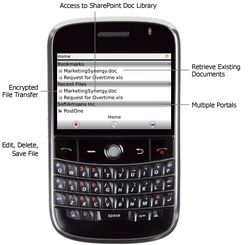 This new release brings unparalleled integration and performance," said David Wihl, CEO of SoftArtisans, "our many enterprise customers will be very pleased with the workflow support and scalability to the largest SharePoint configurations.
Watertown, MA (PRWEB) September 9, 2010
SoftArtisans is announcing the release and immediate availability of SilverDust version 2.4, providing mobile workers with unparalleled BlackBerry mobile access to SharePoint content. SilverDust allows you to access your critical business data stored in SharePoint from wherever you are using your BlackBerry mobile device. You can:

Participate in SharePoint workflows
Review, edit, check in, and check out documents
Manage your company task lists
Access shared calendars, and more.
SilverDust integrates with BES and Active Directory. Configuring it does not require any changes to, or installations on, your SharePoint server, and SilverDust honors all of SharePoint's security settings. SilverDust works whether you are online or not, so you can stay productive no matter where you are.
SilverDust customers range from large financial enterprises to companies in the energy sector. These organizations have large SharePoint deployments, and a highly mobile workforce that they seek to make more productive while away from their desks. These companies, and others, have turned to SoftArtisans SilverDust as a trusted and secure solution.
Founded in 1996 and headquartered in Watertown, MA, SoftArtisans is a leading developer of BlackBerry and SharePoint integration, Microsoft Office format reporting, and secure enterprise file transfer software. As a BlackBerry Elite Alliance Member and longtime Microsoft partner, SoftArtisans develops SilverDust which provides BlackBerry smartphone users with secure access to SharePoint content. SoftArtisans hosts the New England BlackBerry Developers Group and has been honored as one of North America's 500 fastest-growing technology companies.
###