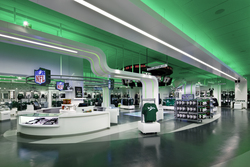 "Our biggest challenge in the development of this store was coming up with a way to give both home teams an exclusive presence without sacrificing operational efficiency," said Donna Genesky, director of retail for Delaware North Companies Sportservice.
East Rutherford, NJ (PRWEB) September 8, 2010
Delaware North Companies and Chute Gerdeman Retail—whose high-profile clients include M&M's World, Target, Levi Strauss and Mattel (Barbie Shanghai)—have partnered to develop a state-of-the-art retail store at New Meadowlands Stadium, home of the New York Giants and New York Jets.
The Flagship Store Powered by Reebok, which opened to the public in mid-August for preseason football games, is already being recognized as one of the most unique retail operations, as well as one of the largest team stores, in the National Football League.
Using a combination of modern architectural design and the newest innovations in technology and lighting, The Flagship Store Powered by Reebok was created with a unique ability to transform from Jets to Giants virtually overnight. In this way, the 9,600-square-foot store provides Giants and Jets fans with a team-customized shopping experience for the teams' respective home games. The store can also be split 50/50 between the two teams on non-game days.
"Our biggest challenge in the development of this store was coming up with a way to give both home teams an exclusive presence without sacrificing operational efficiency," said Donna Genesky, director of retail for Delaware North Companies Sportservice, the exclusive operator of food service and retail at the stadium. "The end result is a magical transformation that provides fans with the ultimate shopping experience."
The collaboration between Delaware North Companies and Chute Gerdeman results in a store that:

Incorporates the newest innovations in interactivity, digital signage and projection, media and architectural lighting.
Dynamically enhances the profile of both Jets and Giants within the New Meadowlands Stadium with a stunning new retail store design.
Uses sophisticated modern architectural design to update each team's historic NFL legacy and traditions.
Modular Innovation
The store's magical transformation is made possible through the design team's creative use of lighting, projected graphics, innovative hidden merchandise storage, flexible and mobile fixtures and a dynamic new wall display system that solves the major challenge of rapid merchandise changeover. Revolving perimeter display panels for jerseys, jackets and shirts can pivot to reveal either Giants or Jets merchandise.
A striking cap tower near the rear of the store, topped with a massive, gleaming replica of the iconic Vince Lombardi trophy, allows for logo merchandise to be interchanged simply by flipping hinged cover panels. Mobile fixtures allow merchandise to be positioned, stored and brought out again. Hidden storage areas at the more permanent fixtures allow store employees to quickly change-out stocked merchandise right at the fixture itself, eliminating much of the need for backroom storage areas and time-consuming labor.
Digital signage, prominent throughout the retail space and including a large LED video wall, is easily reprogrammed from one team to the other. Iconic imagery, including players in action and team logos, is projected on both the floors and walls at key locations.
The center of the store also features an interactive zone where fans can play a simulated football game on a 15- by 8-foot digitally projected Jets or Giants home football field. In addition, four gaming stations feature NFL-themed video games, again programmed to involve the home team.
Soaring white stripes add drama
"The stadium architect's powerful use of lines and striping in their design provided inspiration for the Flagship Store concept," said Chute Gerdeman President Brian Shafley, the lead designer on the project. "This stylish design features gleaming white floor-to-ceiling striped bands that simulate the dramatic emotional highs and lows of a football game."
The bands soar into the ceiling area, gliding across, then dipping back down into the sales floor to define the spaces and create more intimacy within the huge store.
"The striped ceiling is the key visual element that defines the space, lighting the store and containing technology features," Shafley said. "They are our experiential workhorse fixtures, and they supply the changeable elements that bring the teams' brands to life within the store."
The lighting is easily changed from Giants' blue and red to Jets' green and white. Above the architectural bands, the ceiling is washed with Jets' green or Giants' blue lighting, creating a complementary glow that attracts game-day crowds from outside the store.
Designed with crowds in mind
Delaware North Sportservice and Chute Gerdeman also designed the store with plenty of space between displays to accommodate the flow of large numbers of shoppers. Sportservice will use more than 50 associates on game days to staff the store's 21 points of sale and assist customers.
The Flagship Store carries the broadest selection of New York Giants and New York Jets apparel and merchandise available. In addition, the store is powered by Reebok, the National Football League's official equipment and apparel sponsor. Other well-known brands, such as Alyssa Milano's Touch clothing line, Mitchell & Ness and Cutter & Buck are featured at the Flagship Store. In addition, the store carries home and entertainment products, jewelry, tailgating equipment and much more.
"This store really showcases Delaware North's strong relationships with the top apparel and merchandise brands in sports, as well as our retail construction design and operational expertise," Genesky said. "It was an exceptional partnership between Delaware North and Chute Gerdeman, in collaboration with New Meadowlands Stadium, the teams and Reebok."
Delaware North, with a focus on enhancing the overall visitor experience, manages retail locations at sports and entertainment venues, airports and national parks. Through its Sportservice division, the company manages retail operations for more than a dozen major professional sports teams.
The New Meadowlands Stadium Flagship Store is open on game days and is located on the service level of the stadium inside the West Gate near the Great West Hall. Delaware North is operating more than 20 other retail locations and kiosks at New Meadowlands Stadium.
Editors: Professional, architectural-quality photos are available. Please contact Allison Short.
About Chute Gerdeman Retail
Since 1989, Chute Gerdeman Retail, based in Columbus, Ohio, has created retail brands, their identities, their environments and every other customer touch point. The firm's client list includes: AAFES, C&A Brazil, Delaware North, Kohl's, Levi Strauss, Mattel (Barbie Shanghai), M&M's World, RadioShack, Target and West Marine. The company has become one of the most respected design firms in the country with more than 150 awards including four "Store of the Year" awards. For more information, go to http://www.chutegerdeman.com.
About Delaware North Companies Sportservice
Delaware North Companies Sportservice is one of the nation's leading food, beverage and retail management companies. Sportservice provides concessions, gourmet catering and fine dining operations at more than 50 professional sporting venues, entertainment complexes and convention centers across the United States and Canada. Sportservice is the provider of choice for an impressive client roster, including the World Series, the National Hockey League's and Major League Baseball's All-Star games, the Stanley Cup Championships and the Olympic Games. For more than 90 years, Sportservice has demonstrated that it knows what it takes to effectively develop, operate and manage multi-faceted kitchens, restaurants, suites, fine dining and retail facilities in order to meet the changing demands of today's fans. From introducing healthier food selections and creative cuisine to twists on traditional fare and new organic options, Sportservice continues to innovate and enhance the fan experience.
About Delaware North Companies
Delaware North Companies is one of the world's leading hospitality and food service providers. Its family of companies includes Delaware North Companies Parks & Resorts, Delaware North Companies Gaming & Entertainment, Delaware North Companies Travel Hospitality Services, Delaware North Companies Sportservice, Delaware North Companies International and Delaware North Companies Boston, owner of TD Garden. Delaware North Companies is one of the largest privately held companies in the United States with revenues exceeding $2 billion annually and 50,000 associates serving half a billion customers in the United States, Canada, the United Kingdom, Australia and New Zealand. For more information, visit http://www.DelawareNorth.com.
###