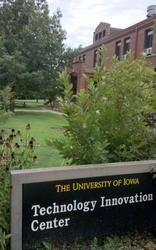 Our new facilities will provide better infrastructure for our software development, customer support and tighter collaboration
Iowa City, IA (PRWEB) September 9, 2010
Celadon Applications, (http://www.CeladonApps.com), innovative creator of Road2™ and other software applications for the electric vehicle and alternate energy markets, is moving into new facilities at the University of Iowa Innovation Center, supporting their growth by accommodating both new and existing staff for better collaboration and customer support.
With support of a grant from the Iowa Economic Development office, Celadon is moving into new offices at the University of Iowa Innovation Center (http://bit.ly/9wDH6f) on the U of Iowa Research Park campus on Coralville, IA. With new staff and current plans for additional development, Celadon is investing in facilities to allow for better collaboration of staff and a high level of support of their customer base, the manufacturers, suppliers and drivers of electric vehicles.
Celadon has been recognized as a high potential company by the Iowa Economic Development Board and the Pappajohn Entrepreneurial Center (http://www.iowajpec.org/). As a developer of applications for the blossoming electric car market (Nissan Leaf, GM Volt, Tesla, Honda, Toyota Prius and others) Celadon is in the forefront of this exciting automotive market.
Critical to the acceptance of these new technologies is the confidence that they are usable. Drivers must believe they can drive somewhere and get home again, not ever being stranded. This requires more and higher speed charging stations, better batteries, but also that you know exactly how much father your car can go. Celadon solves the problem of driver "range anxiety" written about (http://bit.ly/dgLKGl, http://bit.ly/ahKbel) in both technical and popular media.
"With market forecasts for electric vehicles ranging from hundreds of thousands to many millions, the opportunities for Celadon are tremendous," said Karen Pease, CEO of Celadon. "Our new facilities will provide better infrastructure for our software development, customer support and tighter collaboration by having most of our staff in one place at this critical time of our evolution."
Celadon Applications is a leader in developing innovative solutions helping green transportation and alternate energy markets grow by providing accurate and easily accessible information to confidently and effectively operate.
For more information contact:
Jack Pyne
jack(at)celadonapps(dot)com
Celadon Applications
2261 Crosspark Road
Coralville, IA 52241
Phone: 319-467-4564
###