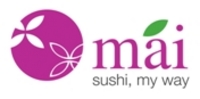 New York, NY (PRWEB) September 9, 2010
Located in the heart of Midtown Manhattan, mái cuisine serves Japanese cuisine with bold, artful flair. Launched by Genji, Inc., parent company to Genji Sushi, purveyors of fine sushi and Japanese-inspired cuisine at Whole Foods Market, mái cuisine is the company's first foray into the independent fast-casual segment of the food industry. Featuring both a sit-down restaurant and grab-and-go deli, mái cuisine serves the best of Japanese cuisine in a fun, convenient and affordable setting. The deli's build-your-own bento box allows time-crunched lunchers to customize a bento featuring an entrée, sozai and pickled vegetable, all for under $11, and presents a full range of traditional and inventive grab-and-go sushi items. mái cuisine's restaurant offers a sit-down option for lunch diners, with plans to expand to dinner with a full bar in the coming weeks.
The space, designed to mimic the warmth of a spa or a Japanese tea-house, is an oasis from the busy New York streets, providing patrons with a warm, inviting and low-stress place to decompress. The simple, zen-like environment allows the all-natural vibrancy of the food to pop, without being austere or too serious. Lighting is intentionally low, warm and subdued, intended to mimic natural daylight and lantern-like glows. The restaurant features several seating options from wooden chairs along the sushi bar to intimate tables and booths. Like the menu, mái cuisine's décor blends the contemporary with the traditional.
Focusing on fresh, all-natural ingredients and offering several sustainable seafood options, mái cuisine offers two separate Japanese menus prepared by its two head chefs, Restaurant Executive Chef Takayuki Shirasaka ("Shira") and Deli Corporate Executive Chef Miki Willis. Chef Shira has an uncomplicated and clean take on sushi and Japanese cuisine. His menu includes a colorful combination of 'edomae'-style sushi and sashimi, complemented by crowd-pleasing donburi rice bowls, udon noodles and bentos. Chef Shira's background in 'kaiseki-ryori' (Japan's 'haute cuisine') informs his menu with zen-like honesty and authenticity. Before joining Genji, Inc., Chef Shira was responsible for all catering at the New Grand Hotel in Yokohama, Japan.
Miki Willis, executive chef for the mái cuisine Japanese deli, was inspired early on in her career to take an inventive approach to sushi, having trained with Chef Masaharu Morimoto, of "Iron Chef" fame. At mái cuisine, Chef Miki pushes Japanese cuisine beyond its borders, creating Japanese dishes inspired by Italian, Korean, Vietnamese and French cuisine. As a registered dietitian and nutritionist, Chef Miki's menu highlights fresh, healthy options that stimulate the palate.
Signature dishes from Chefs Shira and Miki include: prosciutto box-sushi; salt-water eel box-sushi with cream cheese, shiso herb, chives, pickled ginger and sansho pepper spice; hokkaido sushi cup with salmon, salmon roe, crabmeat, scallops and sea urchin; homemade croquettes with menchikatsu pork, beef and cabbage served with a tonkatsu sauce ; curried donburi: minced beef, sautéed with vegetables, egg and a dry curry seasoning; tofu caprese with a soy vinaigrette; fresh calamari salad; sesame tofu pudding with espresso kuromitsu sauce; sweet bean waffle cream-wich dessert.
mái cuisine is located at 16 East 41st Street, New York, New York, 10017. The deli is open Monday through Friday from 10 am to 8:30 pm; Saturday from 10 am to 7 pm; Sunday from 11:30 am to 6 pm; the dining room is open Monday through Friday from 11:30 am to 2:30 pm. The restaurant will be open for dinner beginning in October. mái cuisine can be reached by subway at 42nd St-Bryant Park (B, D, F, M) and Grand Central (4, 5, 6, 7, S). http://www.maicuisine.com
###