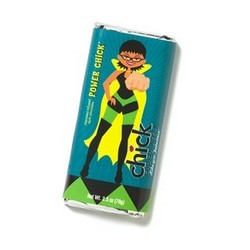 Chick Chocolates satisfy a woman's intense chocolate craving while providing a good giggle.
Seattle, WA (PRWEB) September 21, 2010
Just in time for the Fall fashion season, Chick Chocolates unveils five new styles for its fabulous Chicks line. Previously available as portion control pieces in a lipstick box, they are now available in a full size bar form. This line extension comes as a result of customer requests who asked for more chocolate to share among friends.
Created by women, for women, the Chicks were originally conceived as an empowerment message for women to indulge in premium chocolate with a single-serve "gift for me" treat. Our fiercely loyal cult following tells us that they also like to give Chicks to other chicks to celebrate friendships.
These new bars come with five distinct personalities: Extreme, Nutty, Strong, Survivor and Power Chicks who were inspired by real women.
Power Chick. Turkish ground espresso infused dark chocolate provides a power boost.
Nutty Chick. Milk chocolate with roasted almonds and crunchy all natural toffee pieces.
Extreme Chick. 65% cacao dark chocolate and dry roasted cocoa nibs give this bar extra antioxidants and intense flavor.
Strong Chick. Dark chocolate bar with the extra goodness of acai berry, dried edamame, fresh dried cranberries and roasted almonds.
Survivor Chick. Pure white chocolate and fresh, freeze dried raspberries and lemon are the inclusions in this dark chocolate bar. 100% of the profits from this bar go towards the fight against breast cancer.
Each bar is made in small batches with premium chocolate and only 100% all natural ingredients and is also Kosher certified.
Chick Chocolates are available in select specialty boutiques and fine grocery stores across the country and online at chickchocolates.com. Sold individually, the bars are expected to retail at $2.99. For retail outlets, the bars are available in 12 count vertical displays and all together in a 45 count free standing "Chick Condo" display.
About Chick Chocolates
Chick Chocolates is a registered trademark of Seattle Chocolate Company. Founded in 1992, Seattle Chocolates is a woman owned company headed by chief chick Jean Thompson based in Seattle, Washington. Chick Chocolates was Jean's first project and product introduction in April 2004, after taking the reins as CEO in 2002. Survivor Chick was introduced in 2005 after Jean's own brush with a cancer scare and offers 100% of profits to fight breast cancer.
###